Perform Scenario-Based Data Sync & Backup On Large Scale With SyncBack
If you're planning to deploy a complete data synchronization system to seamlessly perform the backup tasks regardless of how big the work scale is, odds of you coming across one feature-rich but paid synchronization utility are high. What if you could find all the essential synchronization and data backup features for free? SyncBack attempts to offer all the characteristics which you'd like to have. It can perform sync and backup operation remotely while covering numerous scenarios to fit the need of advanced users.
Despite having features of previously reviewed sync utilities, it takes data back up and synchronization to the next level, allowing users to backup and sync data over network and to optical drives, launch application after and before the sync/backup task, schedule by day/monthly basis, filter both files and directories, and compress destination data by 4 different levels. If data backup or synchronization is to be performed on a large scale, you can turn-on Expert mode to generate reports and send confirmation/ errors logs through inherent email system after sync or backup task gets finished.
The application offers two user skills modes – Easy and Expert. Depending upon the level of task, you can switch between the modes to set out sync/backup options as per requirements. The main interface displays the profiles which are being running, active or scheduled. First off, create a new profile prior to selecting the task (backup or sync) type. By default, it allows user to define task behaviors in different situations, tweak with copy/delete options, apply directory and file level filters, and to handle sub-directories in source folder. However, you can click Expert button to access all the advanced back up and sync settings.
Expert mode enables user to specify compression by 4 different levels, backup and sync data between remote locations, set email sending options, perform task in silent mode with user-defined priority, launch applications, analyze file comparisons, and determine file changes.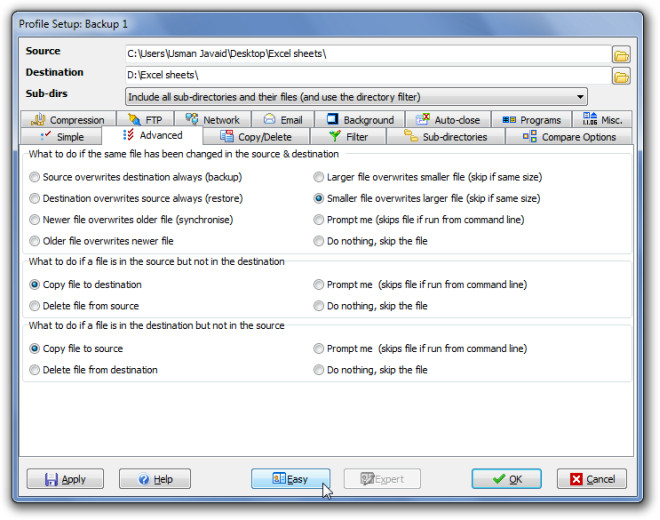 Take a glance at the most prominent Easy & Expert level features.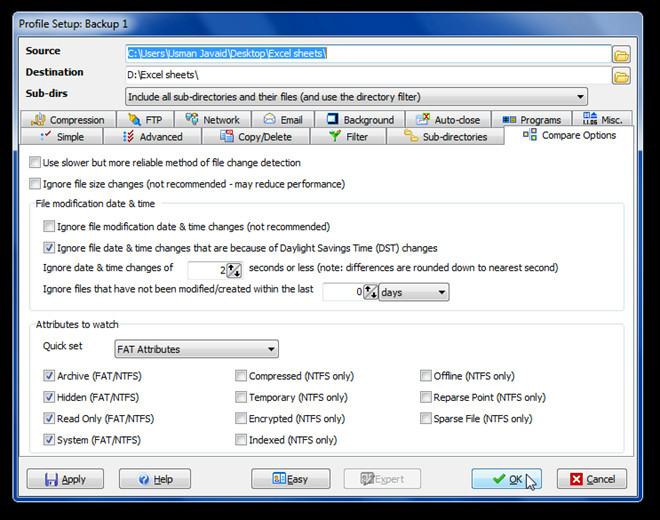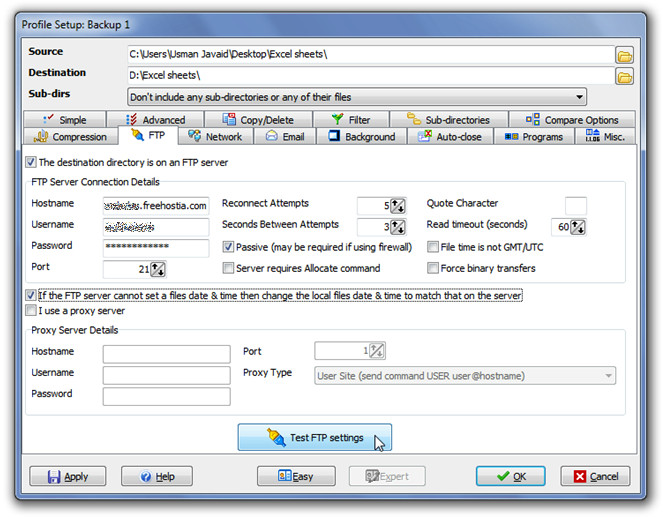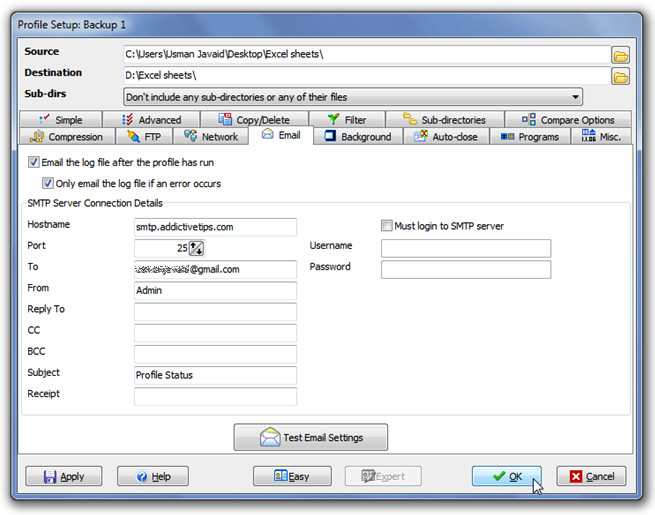 If you're configuring Expert mode settings, we reckon navigating through all the tabs to ensure that nothing is missed through cracks. Once backup or sync profile is all set up, click OK to view basic details with Profile status on main interface. Now click Run to start process simulation, which shows file comparisons between source and target locations. From Simulation window, click Continue Run to finally start the sync or backup process.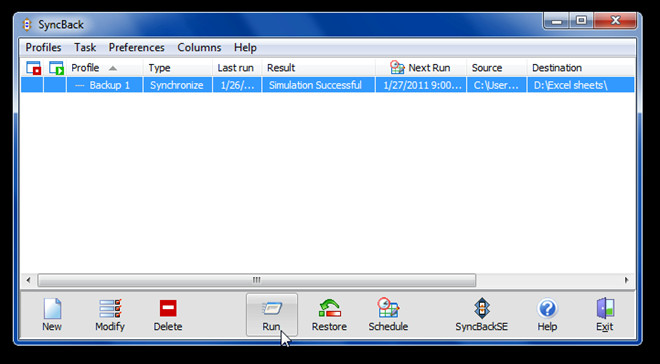 We have touched the most salient features of SyncBack. For more, you should review help manual which is bundled in the installation package. Expert users can set it up to schedule network-based synchronization, beginners who need to quickly perform data sync/backup operations can keep Easy mode at their fingertips. It works on all versions of Windows.