Photivo Is Powerful RAW Photo Processor That Integrates With GIMP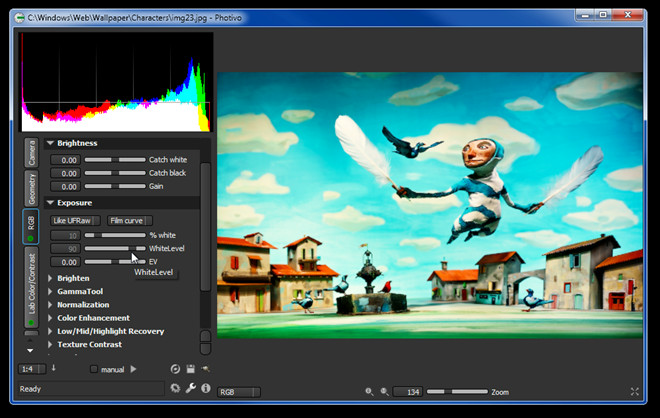 RAW and BMP, despite being the widely used image formats, are arguably the most difficult formats to handle and process. As long as rendering along with applying basic effects over these image formats are concerned, many image processors claim to handle enormous sized BMP and RAW images, but rarely do we come across a photo processing utility which is powerful enough to not only render huge images but can render and process them without compromising on quality.
Photivo is one such massive open source tool that contains hundreds of processing techniques to handle almost all image formats, including both RAW and BMP, in a non-destructive 16 bit pipe. Before going into details, it is worth noting that it integrates GIMP workflow mechanism to provide powerful processing with a facility to send modified photos directly to GIMP for further re-touching.

The developers claim that it uses the best image manipulation algorithms available out there whilst providing users with all the effects and tools which they'd wish for, CA correction, Ton mapping, Inverse Diffusion, Exposure, contrast stretch, Toning, Vignetting, Softglow, and Film grain simulation, to name a few.
Since the Photivo is designed just for power users, beginners may need a lot of time to get the hang of even half of its provided effects, features, and tools. The best usage would be when you use it in conjunction with GIMP. You need to just drag the photos over the main interface to process them in batch mode.
The left side bar holds a slew of categories which further contains hundreds of effects, image re-touching features, and tools. The main categories are, Camera, Geometry, RGB, Lab Color/Contrast, Lab Sharpen/Noise, Lab EyeCandy, EyeCandy, and Output. Each image processing group holds a different kind of options to tweak with opened image. On changing the default image effects, you will get a live preview of changes.
From the bottom pane, you have options to get information regarding opened photo, such as, basic File Info, EXIF info, and size Info, switch between RGB mode for analysis, and change zoom level. Underneath the effects pane, you can see Save button to save the changes . Alongside Save, Send to GIMP link is present to directly open the photo in GIMP. We've tried to give you an overview of Photivo. You can head over to product page to review each feature and provided effects in detail. It is available for Windows, Linux, and Mac, supporting both 32-bit and 64-bit OS.