AnyFound Photo Recovery Recovers Wide Range Of Image Formats
If you accidentally deleted the photos from either your digital camera or from your local hard disk, then there are three tools you should try to recover them back. They are Recuva, DiskDigger, and Ars Plus Digital Photo Recovery. The latter has been developed exclusively for recovering photos from the digital camera since it supports RAW formats.
Now each one of them have different functionality, but they cannot recover specific image formats such as PSD, WMF, EMF, ICO, etc. This is where AnyFound Photo Recovery comes in.
Once you start the program, you will find three options listed on the main window. Deleted File Recovery can recover photos from lost or damaged partitions, PC Partition Recovery can recover accidentally deleted photos, and PC Resume Recovery can resume the last recovery result.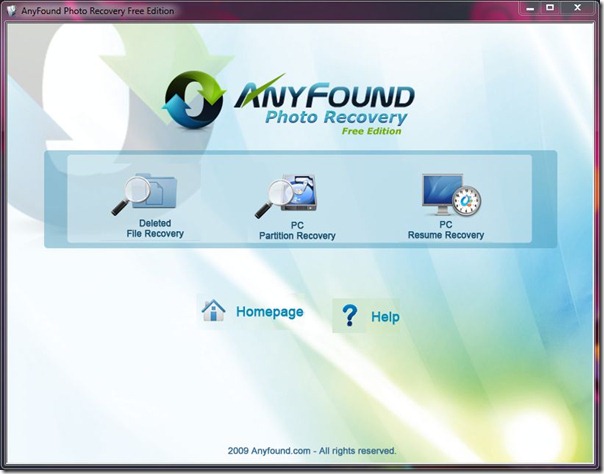 Now the next step depends on which option you have chosen. If you select File Undelete, you will be shown the number of local drives and attached drives. If you select PC Partition then you will only be shown a complete hard drive and external drives.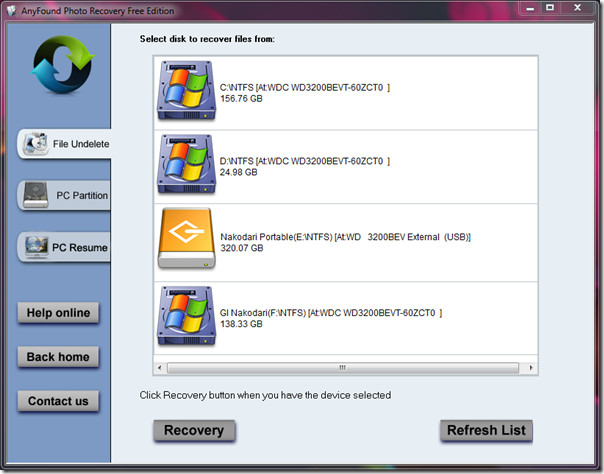 Note that recovery process does take some time. You can always cancel it and resume it using PC Resume Recovery option.
Download AnyFound Photo Recovery
It works on Windows XP, Windows Vista, and Windows 7. Enjoy!