PhotoLikr: Create/Manage Picasa, Minus & Other Online Photo Galleries
Photo viewers are spread in thousands across the internet, but actually a few ones feel handy and unique. For us, a photo viewer should be aesthetically pleasing and should hold a few unique features, to consider it worthwhile for a review. PhotoLikr is probably one such software, which seem to have much potential. It is an image viewer that lets you review, rate and upload your images to Google+, Picasa, Gmail, PhotoOnWeb and Minus. Your friends can then rate your images and help you in sorting them out according to their ratings, its like those Hot or Not games you'd often play with your friends. The application allows you to share individual images, whole folders or set custom filters according to the Total number of votes, Likr Score or Personal rating. Once an album has been viewed, rated, liked and disliked by your friends, you can choose to either move low rated images to recycle bin or move best rated images to a new folder. PhotoLikr supports all popular image formats such as JPG, PNG, BMP, GIF, PSD, TIF etc, and lets you specify the default resolution of pictures before uploading.
The interface is quite simple and minimalistic, however, minimalistic UI in image viewers is rather a good factor, as it provides a cluttered-free environment and more focus on actual photos. The application has Settings button at the top-right, whereas albums can be accessed from the top-left button. At the bottom, you have buttons to Rate Up or Rate Down images and access Tools and Share menus of PhotoLikr.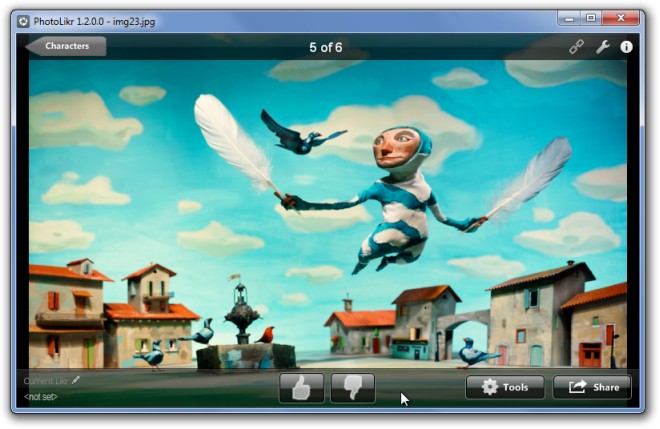 To configure accounts of uploading services, select Settings and enter username and passwords for required services under Accounts tab.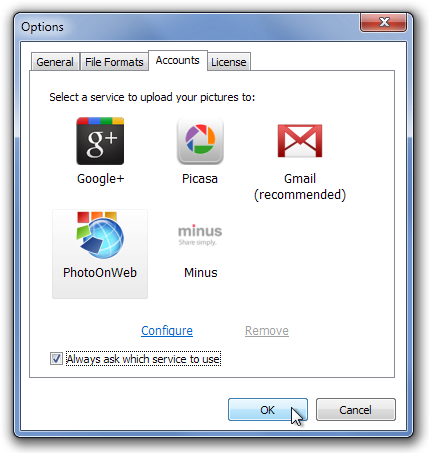 Click Share and select This Image to upload only the current image, Whole Folder to upload the complete album and Custom Filter to upload images filtered by image ratings.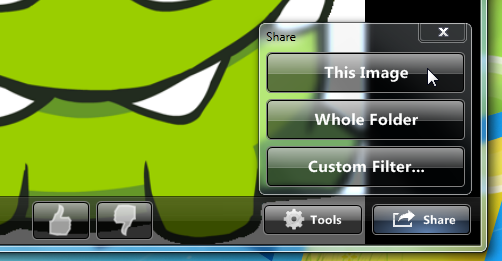 The custom filter lets you define and find multiple values to filter images for uploading such as Total Number of Votes, Likr Score and Personal Rating.
Click Settings to adjust options related to Upload Resolution, File Formats to open with PhotoLikr and Accounts of image uploading services such as Google, Picasa, Minus etc.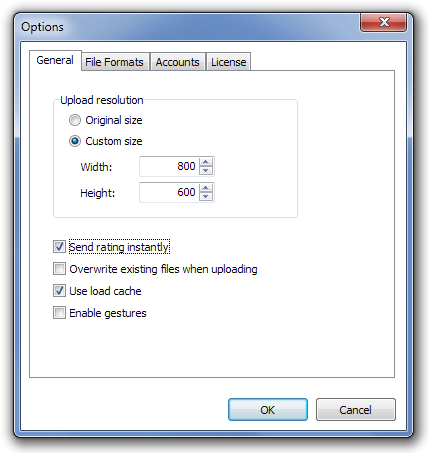 PhotoLikr is quite awesome. Its works as a detour to quickly share your photos with others in your social circle. The application works on on Windows XP, Windows Vista and Windows 7. Testing was carried out on Windows 7 Ultimate 64-bit edition.