PhotoRocket – Easily Share Photos From Windows Context Menu
Social Networks has changed our approach towards how we view our digital life. Particularly beginning with Facebook, photo sharing has hit sky-high. Today it is common and a routine to snap hundreds of photos at a vacation or trip to some exotic location, parties, events, festivals etc, and share them with everyone that matters to you via either social sharing websites, or email. Both these methods, however, are rather time consuming and involve quite a few steps.
Here's where PhotoRocket comes into play. It is a free application (currently in Alpha and invite only) with a fresh approach towards photo sharing. The thought behind PhotoRocket is to make photo sharing as simple as selecting photos, selecting recipients and clicking the send button –  no resize hassle, no long waits, album creations etc., and that's exactly what this application does!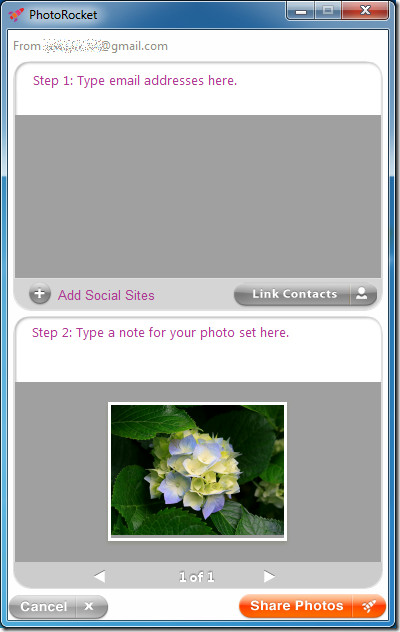 A word of caution for the wise, first – PhotoRocket is in alpha stage at the moment, and hence not stable (it crashed on me twice during testing). Also, it is an invitation-only software for now, but you can request an invite nevertheless. Once you have installed the application however, and signed-up for an account, your life indeed becomes easier if you love to share your captured moments.
Once you have your invitation, you'll need to sign up for a free account with the application itself. After signup, you can download and install the application. The first launch will ask you for your credentials, providing which the application will continue to sit in your system tray.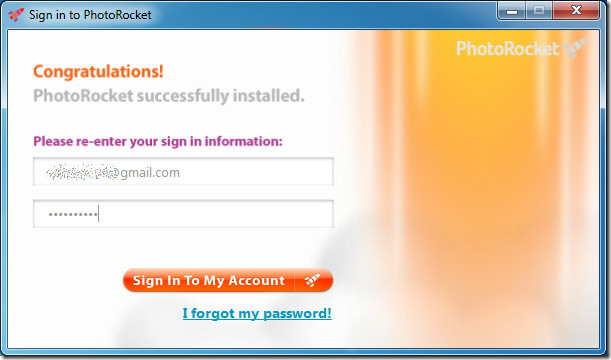 The program adds a 'Share with PhotoRocket' option to your Windows' right-click context menu. You can select as many photos as you like, right-click and choose the PhotoRocket option. The dialog box from the first screenshot will appear. On the very basic level, all you need to do is add in email addresses of the recipients, provide a description of the photos and hit Share Photos, and that's it. Relax as PhotoRocket does all the work for you, from optimal image resolution to delivery to the receiver.

However, it gets even better. Not only can you link your social sharing accounts (currently Facebook and Shutterfly supported), but you can also link in contacts from Outlook, Windows Address Book, Windows Live, Yahoo and Gmail accounts. Doing so allows you to select recipients with just one click, without even the need to enter email addresses manually.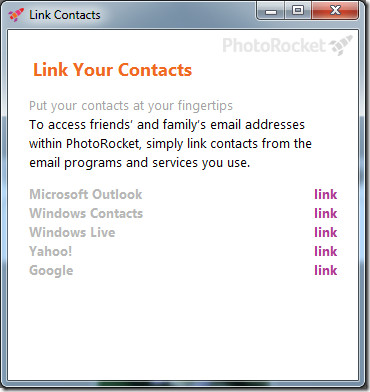 There's a catch, however. It's my belief that this only happened due to the application being in alpha stage at present, but both times PhotoRocket crashed for me when I was trying to link any of my accounts. Even with all the tries I was unable to get this working, and we hope a fix is around the corner for this issue. Facebook, however, connected seamlessly.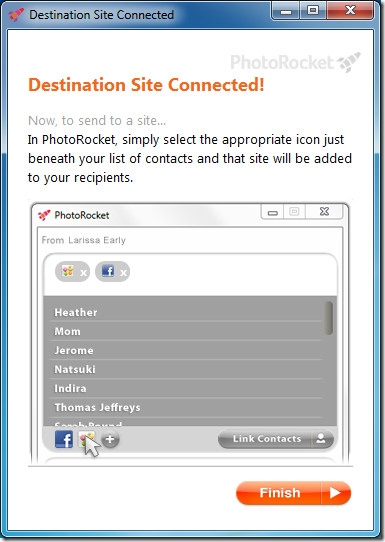 That's about it there is to PhotoRocket right now. It is a fresh and convenient method for sharing photos, and definitely one to look forward to. You can also sign in to the PhotoRocket website with your account and view your sent and received images there, but I was unable to find a practical use for that.
PhotoRocket works with Windows XP, Windows Vista, and Windows 7. We tested it on a Windows 7 x86 system.