Pin Any File To Windows 8 Start Screen Using Tile A File
Since jumping on the Windows 8 bandwagon, I spend a lot of time fiddling with the Start Screen. I don't like the fact that Microsoft been liberal with putting certain constraints regarding Start Screen personalization. For instance, you can easily pin both Modern and Standard UI apps to this revolutionary tiled grid (no pun intended), but you're simply not allowed to pin custom files, folders or other system tools without the use of a third party utility. Back in October, we reviewed two third-party tools (ObyTile and Start Screen Pinner) that allow pinning most of the items to the Start Screen. However, those of you looking for a way to do the same without leaving Windows 8 Modern UI environment (and more importantly, those who are on Windows RT) can use Tile A File. Tile A File is a new application that – as the name implies – lets you pin any selected file to the Start Screen, thus providing an instant way to access it right from the Start Screen.
Tile A File is available at Windows Store. To download the app, open the Store app and type-in the app's name in Search Charms. Once you're on its in-store page, click Install to begin the download process.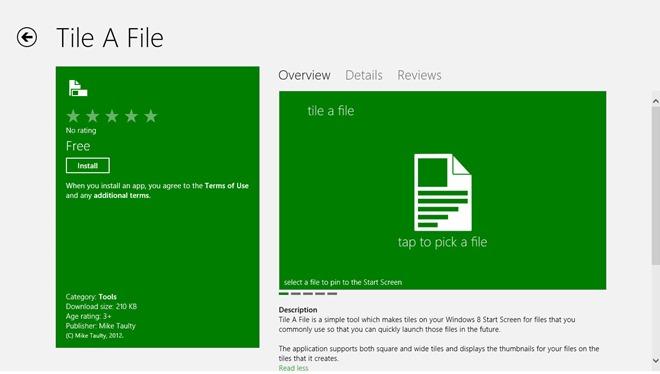 Tile A File has a highly simple yet effective interface, comprising of a bright green hue which covers most the the UI. You can find the "tap to pick a file" button at the center, and it's the only way of interacting with the app. Once you tap or click this button, the app allows you to browse for your file via the integrated file explorer.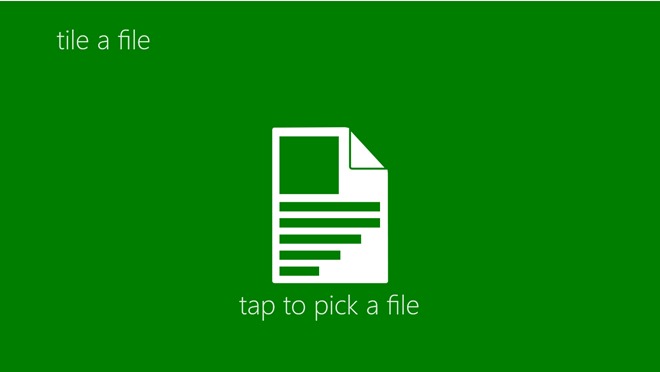 You can select any kind of item, for example video, audio, images, documents, RAR or ZIP archives – pretty much anything qualifies. Once you have selected your desired item, click Open to bring it to the main interface.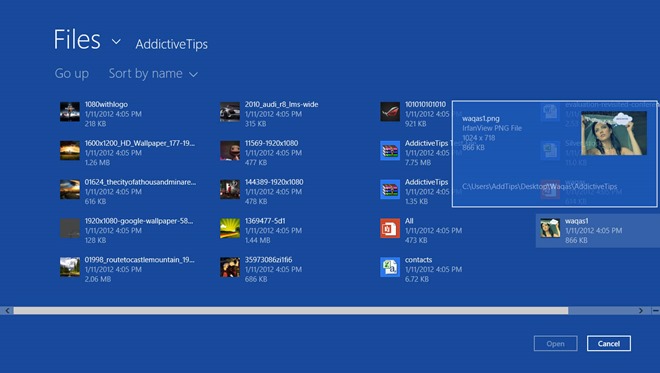 The app also allows you to give the tile a custom name before pinning it to the Start Screen. Click 'tap to make a tile' and then input the tile name. Once done, click 'Pin to Start' to complete the tile creation process. After pinning the item, the app automatically closes itself.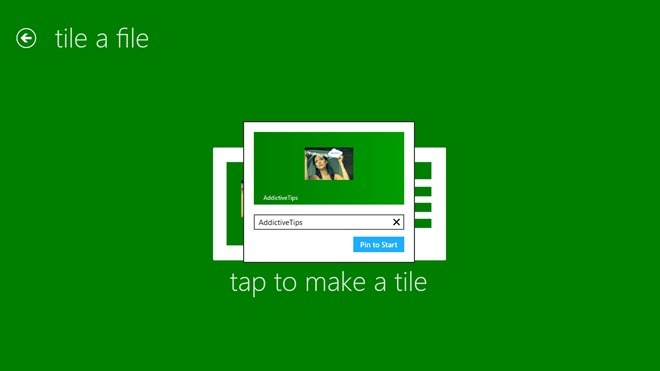 The screenshot below demonstrates how the newly pinned tile appears on the Start Screen. It should be noted that you can switch between Large and Small tile modes.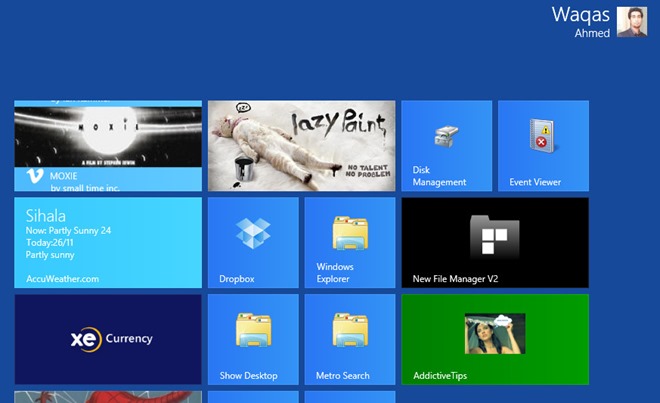 Tile A File works on Windows 8 Pro and Windows RT. Testing was carried out on Windows 8 Pro, x64.
[via Ghacks]