Pixie Is Portable Color Picker With Few Extra Goodies
Pixie, in a nutshell, is a small (11Kb) portable color picker with an option to copy HTML, mix colors, and magnify any part of the desktop. After launching the app, simply move the mouse over any color and it will display the HEX, RGB, HTML, CMYK, and HSV values.

The application is developed for webmasters and designers who want to find out the color values quickly without having to open up a full suite software.
Use Ctrl+Alt+C to copy HTML, Ctrl+Alt+X to open color mixer, and Ctrl+Alt+Z hotkey to open magnifier.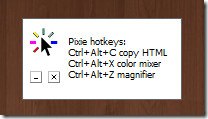 Pixie is also capable of showing the current coordinates of your mouse pointer. It works on Windows 2000, XP, Vista, and 7. Testing was done on Windows 7 32-bit OS.