Plastiliq PixelPicker: View Color Codes Of Desktop Items In 10 Formats
Picking the right color for the right job can do wonders for your presentation. Using the right or wrong colors – say, for your website – can make or break the mood of the visitor to keep browsing through your page or switch to another one. Some days ago, we covered ColorToy, an application that allows you to view color values in multiple formats. The downside of that application was that it only allows you to select a color and view its RGB, HEX, Decimal etc, values, but it did not let you view the color values of an image or desktop. For images, you can use Pictures to Color and Color Finder, but if you want to view the color codes of items on your desktop, give Plastiliq PixelPicker a try. Keep reading to find out more.
PixelPicker is a very useful application, with a beautiful and easy-to-use GUI. After installation, the application can be quickly minimized and maximized from the the system tray. It allows you to view color codes in 10 different formats, such as RGB, ARM, HTML, CMYK, HEX etc, and has hot key support. The complete list of features provided by the developer on the product page is as follows.
Clipboard support.
Optional Stay-On-Top.
Adjustable zoom factor.
Resizable magnification area.
Support minimize to tray
You are only required to open the application's main window, left-click inside the interface and drag your mouse out to your desktop. Your complete desktop will be instantly copied into the application and the color code of each item can be easily viewed by left-clicking on any item inside the interface.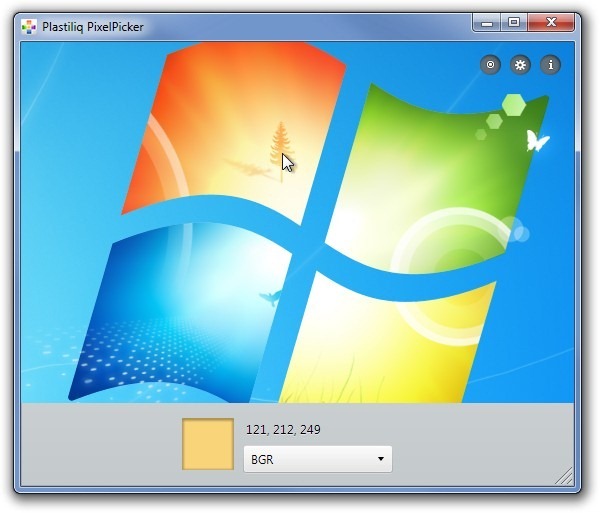 The main strength of the application lies in the high number of supported color formats. The 10 formats supported by Palstiliq PixelPicker are, RGB, ARGB, HTML, CMYK, HSL, HSV/HSB, HEX, HEX with alpha, Decimal and Decimal with alpha.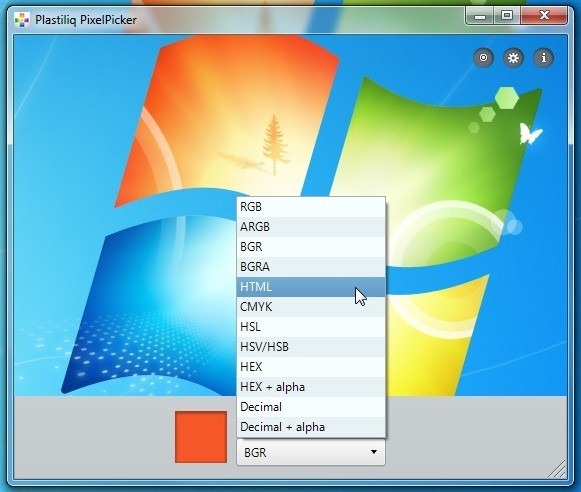 Clicking the Options button available at the top-right corner reveals settings to toggle Minimize to notification area, and Close to notification area and specify the hotkey to show/hide the application.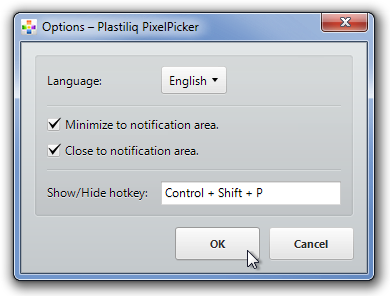 The application performs all the functions advertised on the product page without any glitch, but an option to change the shade of selected colors and view their color codes can be a nice addition to it. We hope that the developer increases the utility of this application by adding some more useful features. Plastiliq PixelPicker has a memory footprint of around 31 MB, and works on both 32-bit and 64-bit versions of Windows XP , Windows Vista and Windows 7.
Download Plastiliq PixelPicker