PNotes – Pin Notes To Your Windows Desktop
When there are loads of appointments and different schedules, the best way to keep track of them is when they are in front of us. Ofcourse there are simple to-do list managers out there, but I have never felt comfortable with them. Personally most people(including me) are used to sticky notes which are quite easy-to-use. All you have to do is write and paste them on your monitor.
But these notes can be annoying when there are too many of them, they can take up quite some space too. Luckily Andrey Gruber realized this too and to reduce the clutter developed an opensource portable tool called PNotes. It is just like sticky notes but are virtual and can be pinned to your desktop. This helps solve two problems, reduce clutter and allows you to stick as many notes without wasting much of your time.
Unlike others, it is totally customizable and filled with features similar to what you will find in wordpad. You can resize the notes, dock them to any side of the desktop, customize the font, styles, size, and much more.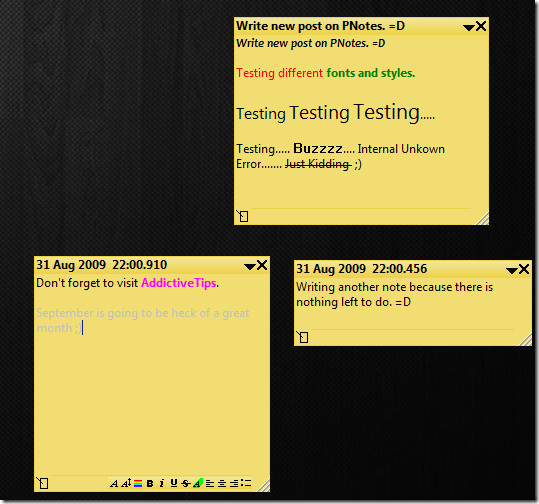 When you load the program, it will sit silently in the system tray, all settings and options can then be selected from the system tray context menu.
If you want to notes to always remain on top, select Bring All To Font option, to Dock the notes to any side of the screen, select Docking(all notes) option, and for Hiding them, select Show/Hide Groups. If you have lots of notes, you can search by either title or content using Search feature. One of the most useful feature is organize notes by groups, it allows better navigation and management in this way. Other useful feature is that it allows you to schedule an event and plays a sound(you select) when the date or time arrives.
To change the settings of Appearance, Skins, Schedule, Docking, Behavior and Misc, go to Preferences. You can allow transparency, customize the way scheduling works, select different skin, change behavior, customize docking, select hotkeys, and much more.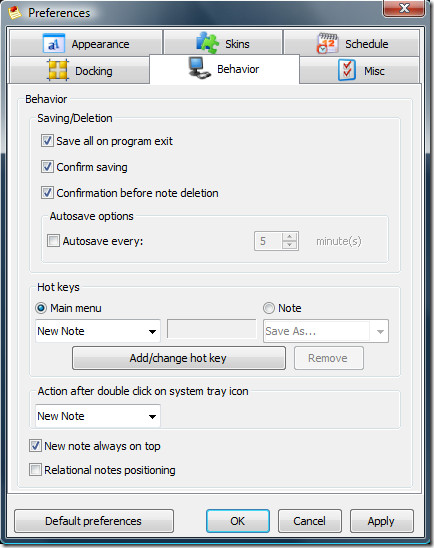 If you want to manage all notes, edit them, delete them, load new notes, and more then Control Panel is the place to do so. You can access both Preferences and Control Panel from the system tray menu.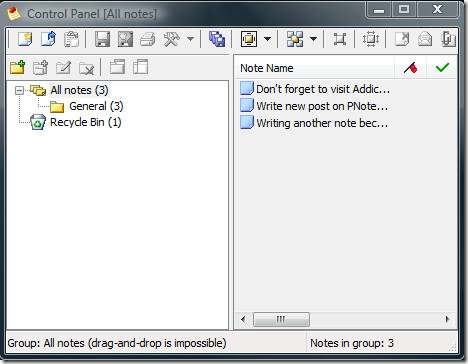 Lastly I can conclude that this has to be the best notes app out there. If you are looking for a notes manager and scheduler, then your search should stop here. The features don't end here, it has an overdue reminder, can email notes, lets you add notes to favorites, and much more.
It works on Windows XP, Windows Vista, and Windows 7. Enjoy!