Pokki Gets A Full-Featured Pandora App With Desktop Notifications
Many of us get tired of our daily hectic work routine, and listening to music is a great way to keep oneself going all day and replenish that relaxation meter again. Speaking of music, there are countless number of services that let you listen to your favorite tunes. Services like Spotify, Last.fm & Pandora offer fascinating solutions to stream music off the internet at zero charge. If you're an avid Pandora listener, Pandora for Pokki is a great app to use the service without firing up its webpage. This gorgeous app enables to sign in to your Pandora account to access your profile, playlists, radio stations and then some.
Powered by Pokki's stellar design philosophy as seen in their other web apps, Pandora also looks absolutely amazing. You'll need to have Pokki already installed to use the app of course. Once downloaded, Pandora's shortcut is placed on the taskbar to keep it at your fingertips. You will find its interface pretty user-friendly and intuitive. Pandora lets you sign in to your account by clicking its button at the top-right. Likewise, new users can sign up for a new account by clicking Register.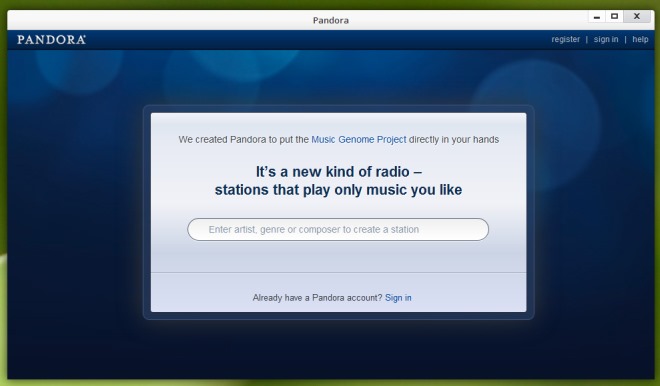 Pandora for Pokki looks remarkably similar to the service's web interface, featuring its signature blue theme from top to bottom. All of the controls are placed at the top, while the outcome of selected actions appear at the bottom. You can navigate to Now Playing, Music Feed, and My Profile sections. Pandora makes searching new stations a breeze; just input the station name in New Station field and hit enter to filter results. You can follow as many stations as you like, all of which are automatically added to the left pane. Those who already use the service would be aware that Pandora lets you vote the current track by using the thumbs up or down buttons, and this option is also available here. The interface displays artist information, lyrics of the current track, album name, song title and so on.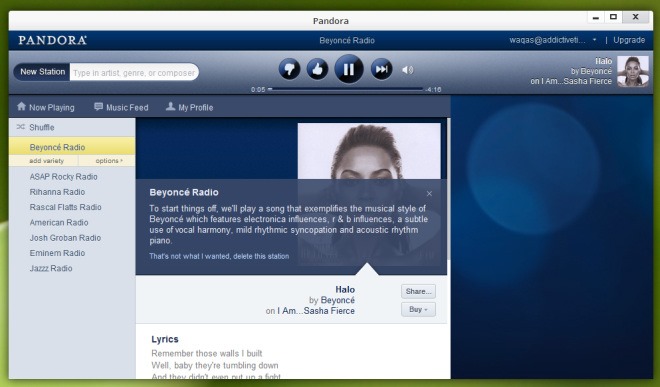 Every time a new track is about to be played, a notification bubble automatically pops up near the system tray, showing track title and artist name.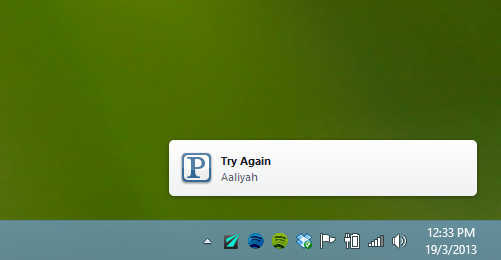 In addition to listening to music, Pandora for Pokki provides a few other options as well, like letting you connect your Facebook profile with the service, which in turn allows you to share tracks to your timeline. Furthermore, your Facebook profile picture appears to the left and your previous activities such as the stations you liked, your comments etc. can also be viewed.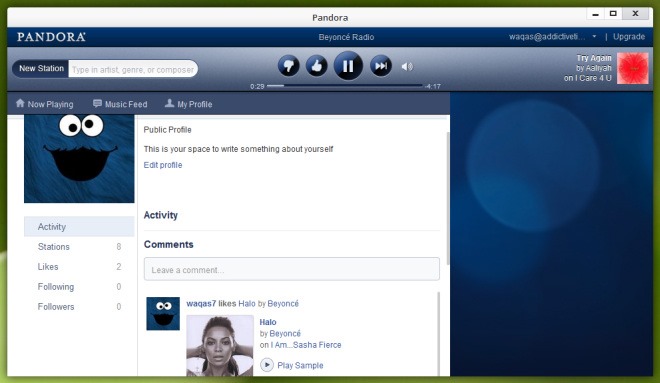 Overall, Pandora for Pokki is a brilliantly simple yet sleek Pandora app that makes listening music a pleasurable experience. It should be noted the Pandora currently works only within US territories. Testing of the app was carried out on Windows 8 Pro, 64-bit OS edition.