Popular Search Engine DuckDuckGo Releases App For Windows 8 And RT
DuckDuckGo is a popular search engine that promotes privacy as its key feature and aims to burst the 'filter bubble', which the company believes limits search queries by profiling people on the internet. Profiling means that search results are displayed according to a person's taste, habits, occupation, country etc. and the information regarding these is extracted from a user's previous queries and a web browser's cookies database. While most of us tend to Google our way through nearly all our web searches, many might not know that the world's leading search engine uses tracking algorithms to instantly filter the results and display suggestions custom-tailored for you. DuckDuckGo believes otherwise and presents the exact same results to everyone searching for the same query. The company has now released a Modern-UI app for Windows 8 and RT platforms. Sporting a very minimalistic and elegant design, DuckDuckGo allows users to search the internet using DuckDuckGo search engine, check on daily Water Cooler stories, and much more!
The main screen of DuckDuckGo displays Water Cooler stories – featured or popular content from around the web. Water Cooler stories are amalgamated from various sources such as Yahoo, Bing, Wikipedia, Wolfram Alpha, Reddit, CNN, ESPN, BBC and a few other popular websites. In addition, the app uses it's own web crawler when the aforementioned sources doesn't suffice for the job, especially for custom searches. By default, Water Cooler stories are grouped by time and appear under today, yesterday and this week sections.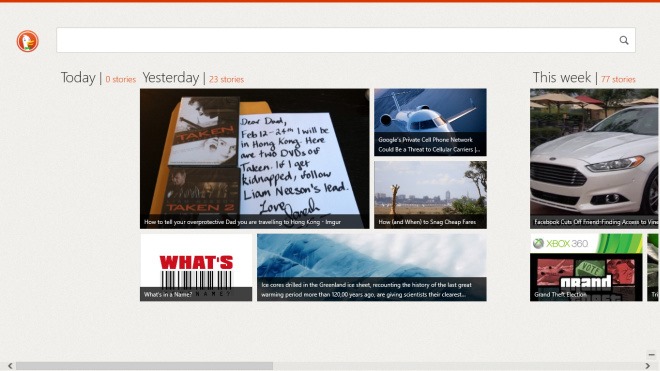 However, another interesting way to sort the content to make everything more intuitive and easy to access is to switch to categories mode by tapping 'Group by category' from the App Bar.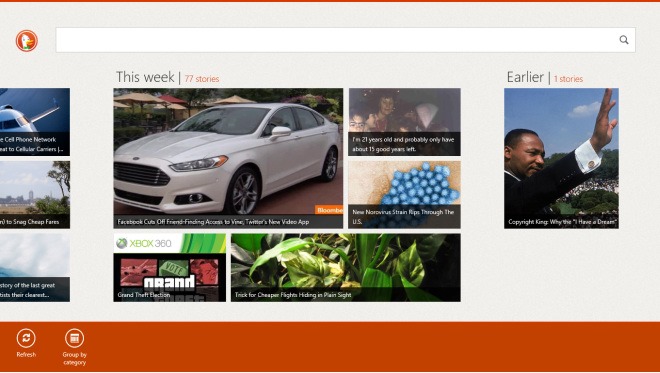 When switched to categories mode, the stories appear under their respective genre such as current events, entertainment, magazine, newspaper, technology and trivia. You can also switch to overhead view mode by clicking the miniscule (-) button at the bottom-right, which in turn provides you with a bird's eye view of all categories.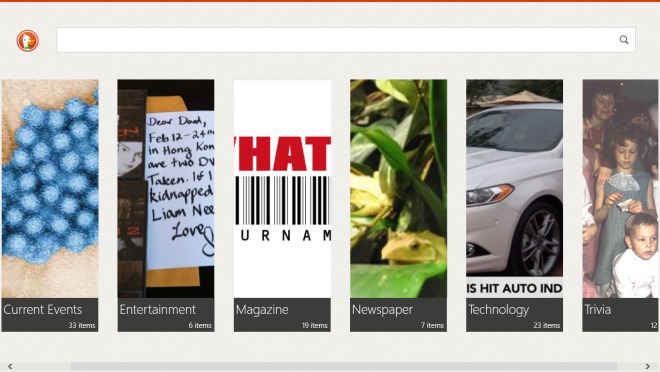 Clicking or tapping a category shows you its relevant stories. The stories are appear as tiles, and clicking or tapping a tile opens the link to the result in your default web browser. Having a native web browser within the app to read these stories would be quite handy, and we're hoping the developers add this feature in a future update.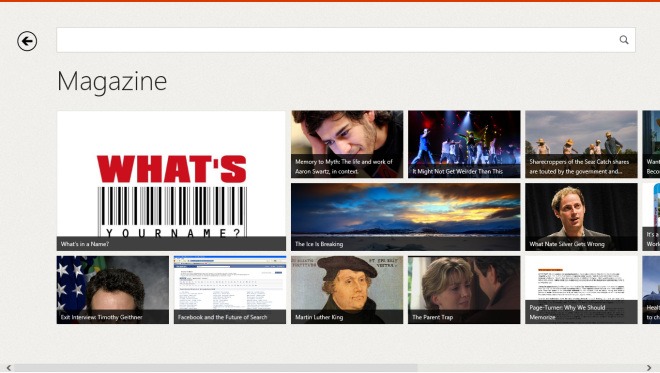 Since it's a search engine, the obvious mainstay remains the app's custom search feature. The app shows you related suggestions as you type your search query, something which reminded me of Google itself. Another interesting feature of DuckDuckGo is its ability to provide uncluttered and related results only, to let users avoid wandering over to unneeded or obscure resources on the internet. The developer called these results as Goodies, which aim to provide instant answers to your queries.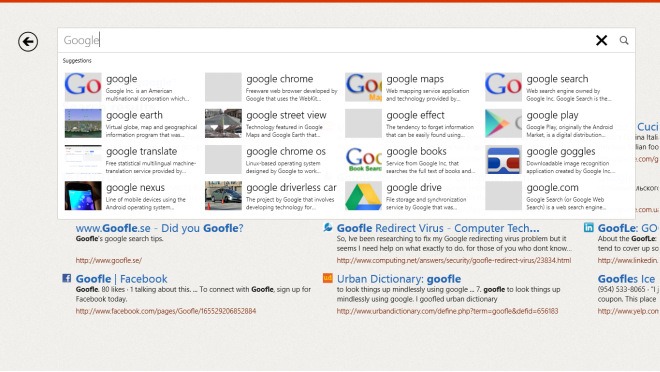 The app also lets you specify the sources to enable when performing custom searches or displaying Water Cooler stories. You can enable/disable the sources from the Filter pane, which can be accessed from the Settings menu in Charms Bar.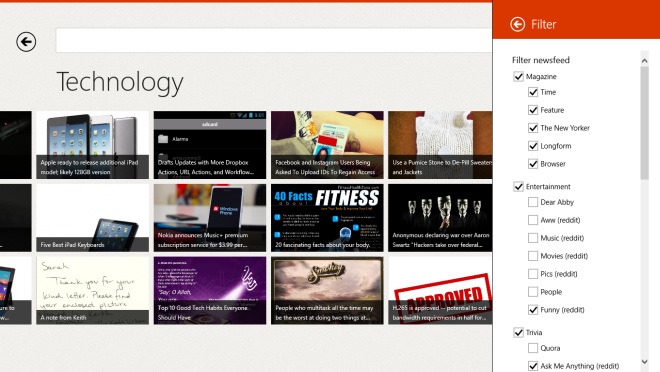 DuckDuckGo can be downloaded from Windows Store fir free and works on Windows RT and both 32-bit & 64-bit editions of Windows 8.