Prevent Autorun.inf Virus And Clean All Associated Files
Autorun Kicker is a portable freeware that monitors all drives and prevents autorun.inf virus by fighting it and cleaning all associated files. It will alert via system try balloon notification every time an autorun.inf virus is defeated.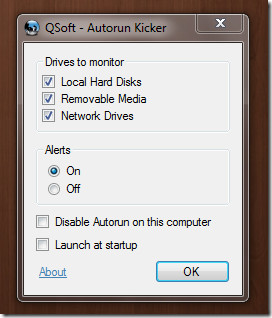 The application can be set to launch at startup and can also disable the autorun feature from the system. By default it monitors Local Hard Disks, Removable Media, and Network Drives. You can change which drives to monitor by unchecking the drives that you don't want to be monitored.

It works on all versions of Windows, including Windows 7. For more, learn how to disable autorun for removable media in Windows 7.