PrivaZer Is Arguably The Best System Cleaning Tool For Windows
System cleaners literally add a new life to your PC, as various unwanted file traces, registry keys, invalid programs, browser history and other objects gradually deteriorate your system's overall performance. Whilst the integrated Disk Cleanup utility comes in handy to get rid of those traces, third-party tools simply provide you with a lot more; for instance, the recently covered Clean Temporary Files, an open source system cleaning tool with myriad of features and top-notch performance, exceeded our expectations. If you somehow didn't find Clean Temporary Files much useful, or simply were looking for another alternative, try PrivaZer, which definitely won't disappoint you. The features we found on PrivaZer are unique, powerful and perform as they are being promoted. The In Depth scan is simply amazing, performing a complete system clean up within a few steps. Then you have cleaning options for secondary storage, external drives, USB flash drives, iPod, MP3 Player, SD memory card and NAS, which makes this tool a lot better than other counterparts. What's more, there's an integrated file shredder and file recovery option, too.
The beauty of the application is not only visible in its interface, features and performance, but also its functionality. It's really nice to see that the application's executable file works both as an installer and a portable version, giving you the freedom of choice (though I used the installation option during testing). When you launch the application, you're given a choice of the type of system cleaning you want to perform, which can be selected from the drop down menu. For the first time scan, it's advisable to select Scan in-depth, while other options include Scan specific traces, Delete Empty, Schedule and Restore.
Purportedly, if you select In-depth scan, you're presented with a list of locations upon which the cleaning process will be performed. Should you need to exclude any file or location, simply unmark it. It's good to see that it can scan and clean unwanted files from plentiful locations, including Traces in MFT, USN Journal, Cookies, Index.dat, Messengers, Windows history, Indexing, Memory, System, Start & Jumplist, Downloaders, just to name a few. After configuring the list according to your preferences, click Scan to begin the process.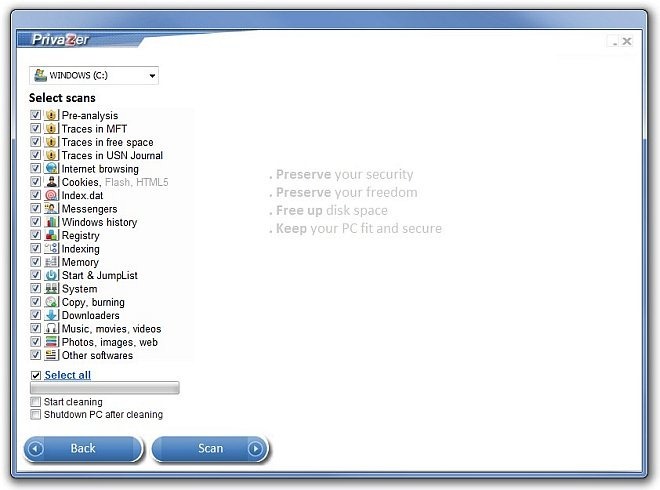 Even though the scan process depends on the size and number of files, traces and other leftovers, generally it's quite fast. During testing, it took approximately 15 minutes for the application to complete the scanning.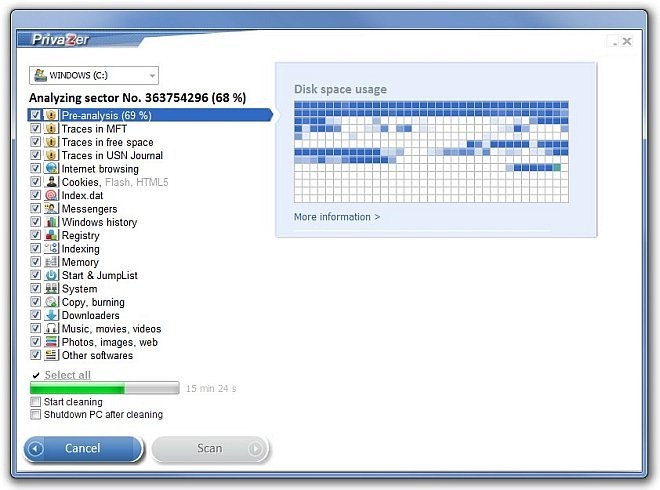 Upon completion, the application presents a statistical data of the scanned locations and files. Now, all you have to do is click Clean to commence the cleaning process.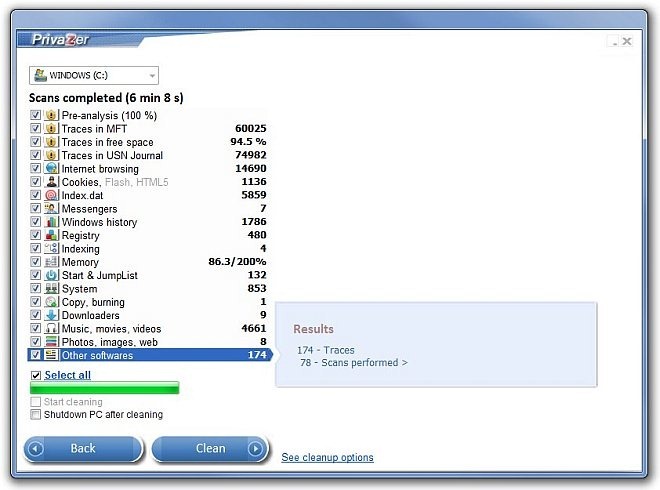 Cleaning process, when performed for the first time (and if you mark all the locations and files), can take up to 2 hours (even more) to complete, and the story wasn't so different during our testing.
Another feature that caught our attention was File Shredder that I mentioned earlier, which completely wipes out a file, leaving behind absolutely no traces or anything. The application integrates the SHRED option into right-click context menu, making the deletion process a breeze.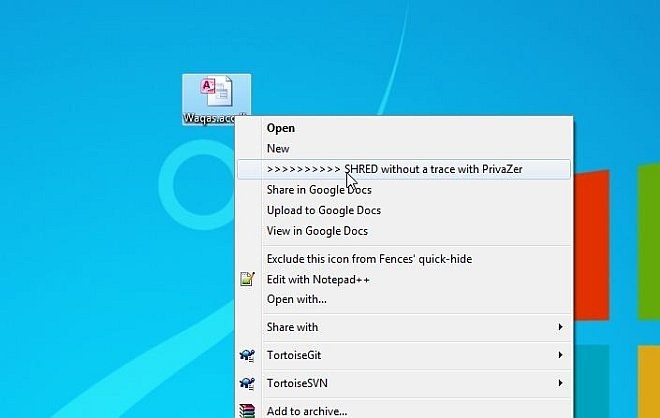 Once you have clicked SHRED, a window pops up, where the only thing you have to do is click Start to delete the file.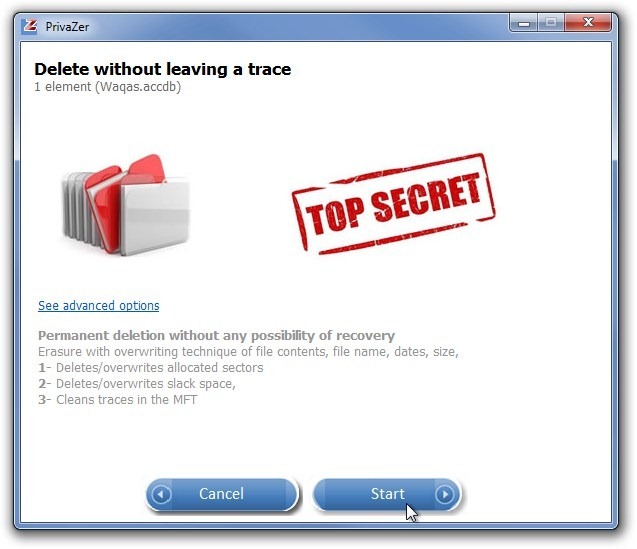 You may also head to it's options menu by clicking Advanced Options at home screen. Here, you can specify a few different parameters, such as toggle deletion instances for pagefile.sys, enable Hibernation and two more Registry backup parameters. Lastly you may choose Performance mode between Background mode and Boost.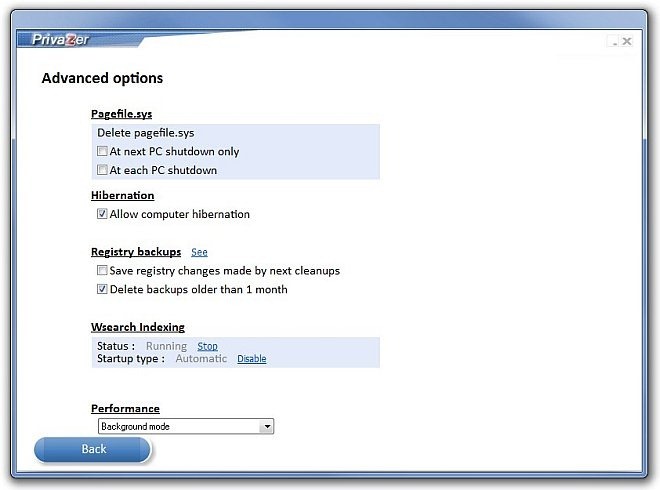 PrivaZer is arguably one of the best system cleaners we have come across. It's jam-packed with features that actually work as they are supposed to. And when you see that an application with such mind-boggling features is available for free, the offer automatically becomes a lot more appealing. It works on Windows XP, Windows Vista, Windows 7 and Windows 8. We tested it on Windows 7 Ultimate, 64-bit edition.