Process Eye Is Process Manager, Startup Manager, & More
When it comes to third party process managers, both Sysinternals Process Explorer and Opensource Process Hackers take the prize. ProcessEye is a recently launched tool that incorporated process manager, application manager, startup manager, startup service manager, driver manager, loaded DLLs manager, and Hosts editor, all in one simple-to-use app.
On the main interface you will find the processes, clicking each process will show the basic information at the bottom of the app. You can view detailed information, properties, and advanced properties of this process.
Right-click the process to kill, restart, suspend, or delete it. You will also find other useful options in the context menu, such as, File Properties, Containing Folder, Scan for Virus, Lookup on Google, Refresh, Change Priority, Save Report, and Copy.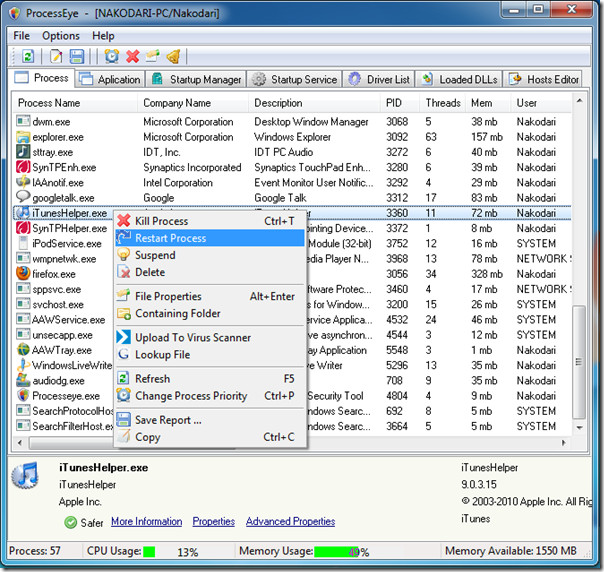 Both the Startup Manager and Startup Services tab neatly lay out the applications and services respectively which can be controlled with a simple right-click. To view advanced startup information, try out Security AutoRun which is another app from the same developer.
You can also view Drive List and Loaded DLLs by visiting their respective tabs. You will find the CPU and Memory Usage on the status bar, they are also displayed when the app is minimized to the system tray.

It works on Windows XP, Windows 2003 Server, Windows Vista, Windows 2008 Server, and Windows 7.