ProEject Ejects & Cleans Your System From Changes Made By USB Drives
ProEject is a portable,  open source application which allows you to safely dismount a removable drive by closing those applications and windows which are running from the external storage medium. It also cleans the registry changes and folders' traces which USB drive might have left behind. It is designed to erase traces of programs in the MRU (most recently used) sections of Windows Registry, as well as, entries created in Run Dialog box or Startup key. ProEject also checks for shortcuts created in areas such as the Quick Launch and Pinned items menu.
Once launched, ProEject displays all local and removable drives from  system tray.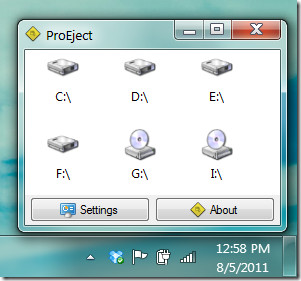 All you need is to right-click the drive to either eject, clean or close it. To perform a thorough ejection of the removable drive and close associated programs, select ProEject option.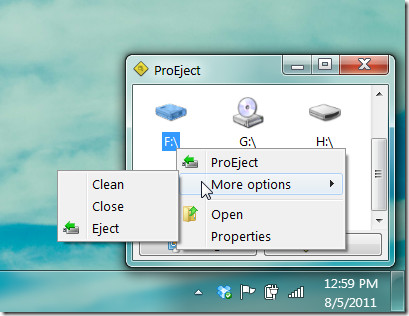 To setup your preferences, select settings from system tray. From General tab, you can enable options like clean registry and temp, close running applications and windows, and display a message when removable disk is ejected. Other options include specified drive ejection, writing open file data to drive, and removal of substituted drives.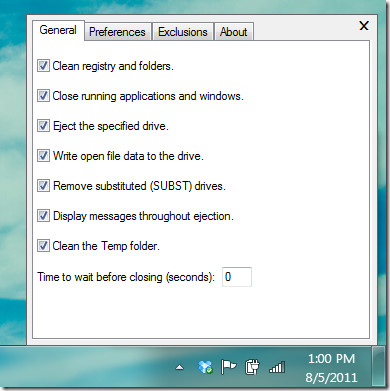 The Preferences tab provides options to view an analysis report for items that are being cleaned, display tray icon, and enable logging.
The Exclusions tab is for adding exceptions. Exclusions come in handy when you don't want ProEject to close a certain application or window when an action is being performed, such as the removal of a USB. ProEject works on Windows XP, Windows Vista and Windows 7.