Encrypt & Manage Sensitive Data On Portable Or Local Drives With Protectorion ToGo
There's always been a lot of discussion & talk about the importance of data security and how to keep your files safe from thieves and hackers lurking around on the internet. Of course, nobody wants their private or confidential information fall in to the wrong hands. Therefore, it's better to take optimal security measures before it gets too late. Fortunately, there are tons of free and low-cost apps available at your disposal that let you store important files in a private, password-protected vault, and one such app for Windows that we recently stumbled upon is Protectorion ToGo. Even though we cannot guarantee it will dodge the top-end data burglars or government agents, it does suffice for the job for keeping your sensitive data such as bank details, passwords, login information, and other files containing private information secure from prying eyes. The freeware tool does it all by protecting it using industry-standard AES-256 bit encryption, and boasts plenty of other features as well.
The application is mainly designed to protect data stored on USB flash drives or external drives that people often require to carry around, but works equally well on internal hard drives as well. The application doesn't require any sort of installation, which makes it a perfect companion for portable drives.
When executed for the first time, Protectorion ToGo requires you to specify a master password for locking and unlocking your files and providing access to them. Simply enter the master password along with a password hint, and hit the 'Start Protection' button at the bottom.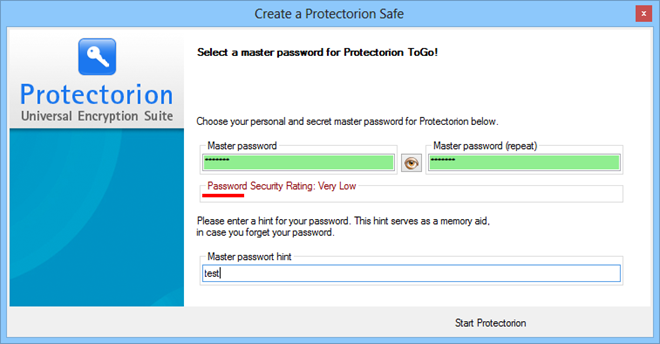 The tool then automatically creates an encrypted 'ProtectorionSafe' folder at the source location. Even though you can still open this folder, any file or data stored within it can't be directly accessed, and the only way to get past the barrier is to access the stored items from within the app. So, how do we do that? Lets find out.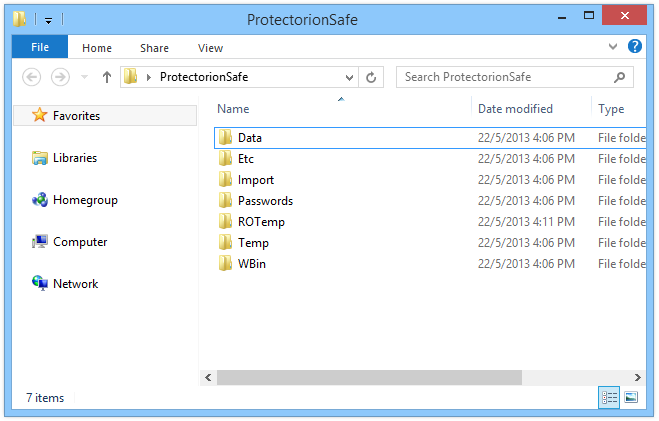 Every time you launch the application, you're presented with a password prompt before you can enter the main interface. Type your master password that you specified earlier, and click 'Open Safe'.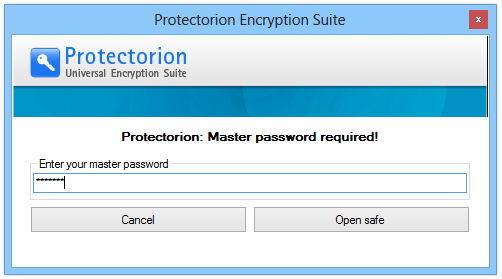 The user-friendly interface of the app lets you store files into the encrypted folder via simple drag and drop. Additionally, it allows you to create custom folders for each type of content you want to store. For instance, you can store all you bank account details under one folder while keeping all your passwords separately accessible in another, in order to keep things well-organized and easy for you to access. Any folder or file that you delete from your safe is moved under the Wastebin, from where you can either copy it back to your safe or remove it for good. Files can be encrypted and decrypted on the fly using the pertaining buttons at the top.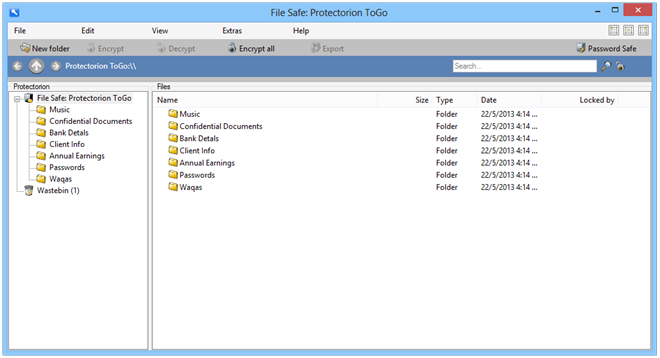 All in all, it's an extremely useful app for those looking for a way to keep their data safe from prying eyes, especially on portable drives. The application works on Windows XP, Vista, 7 and 8.