Putler Is A Comprehensive PayPal Data Analytical Tool
PayPal, despite being the best online payment service, doesn't provide in-depth information on the transactions, which leaves users with no other option than to use third-party analytics tools. PayPal data analytical tool can sum up business transactions in a better way, automate the procedure of evaluating financial status of online businesses relying heavily on PayPal, and foresee to give users an idea that what will be the expected sales of their marketed commodity or service at the end of particular month.
Putler is one such comprehensive analytics tool developed on Adobe Air to efficiently manage and anatomize PayPal transactions. The idea is to facilitate users struggling with outlining key insights about their online business transactions.
Whilst it offers easy and secured PayPal data management right from your desktop without having to login to PayPal to check daily transactions, you also get to see the total account balance, today's sales, forecasted sales, average sales/day with current and previous data charted out on graph to visually analyze the sales trends, top products, and acquisition and contribution trends. Additionally, it lists down customers with total transaction amount, time stamp, and status of transaction. You have complete customers details with elaborated transaction history on main interface which makes it easy to track customer transaction specific issues and discrepancies.
After the installation, it will automatically download sample data to get you preview of how your PayPal data will be managed. The top lane will show all sales related info with a facility to set month to month sales targets. The Dashboard pull-down menu lets you switch between Sales Trends, Top Products, and Customer Acquisition & Contribution Trend chart and their respective analytical data.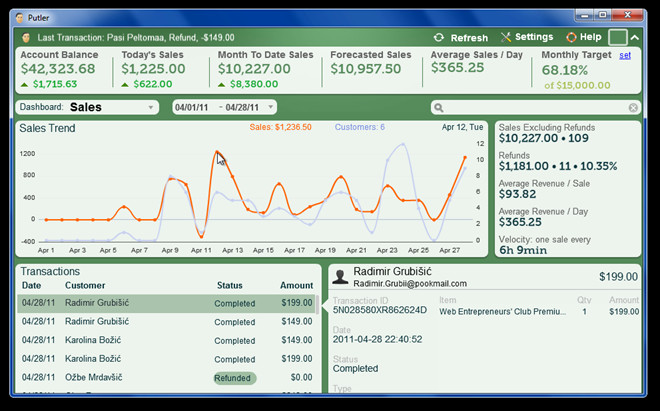 If you for instance have to find out sales of your top products and analyze the frequency of top product sales with other products, select Products from Dashboard menu. Underneath the Top Products chart, it lists down all of your top products/service lines with total sales and total amount received. A click on listed product will show complete product history at right side with contribution (in percentage) of selected product in total sales.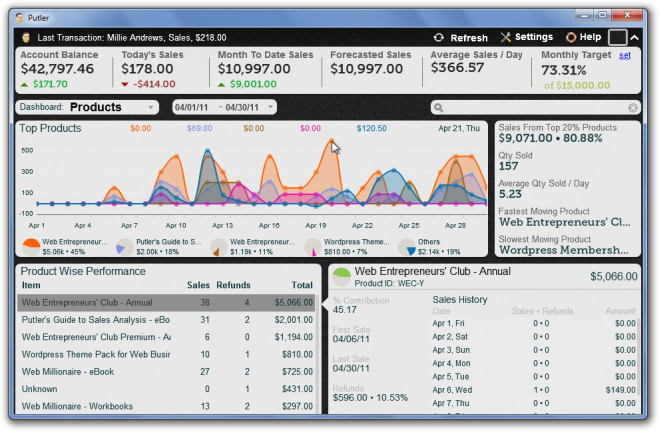 You will probably be interested in finding out your top products at the end of year. After selecting Products from Dashboard menu, use the adjacent pull-down menu, select the time range to plot the data on graph accordingly. Likewise, you can define time range to analyze your PayPal data for other provided Dashboard elements in similar fashion.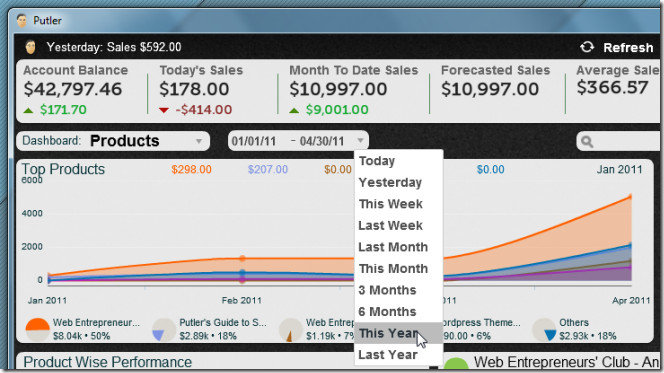 Since Putler, by default, shows Sample data, you need to select PayPal from settings window followed by enter PayPal account details, such as, username, password, signature, and number to retrieve data for. You can also alternatively choose to import locally saved CSV file to populate Putler with PayPal data.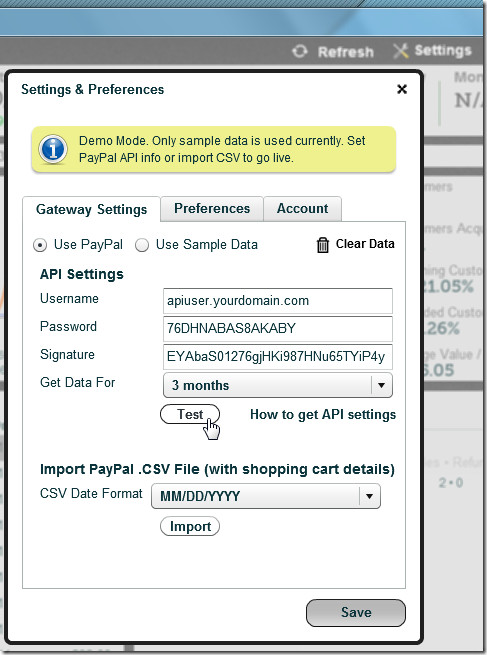 Putler comes in three different versions. The Basic version shows data up to 7 days and is completely free, whereas Monthly Subscription costs $ 4.99/month, and Premium costs $ 49 which comes without time restrictions or any other strings attached. It works on Windows, Mac, and Linux, provided you have Abode Air installed.