Puush – Capture Screenshots And Upload Files For Instant Sharing
Puush is a screenshot sharing application that saves the steps that you usually take to capture, upload and share screenshots. The application is geared towards those who want to upload and share screenshots with others without much hassle. Although it doesn't have features included in previously covered screenshot sharing tools like Grabilla and TinyGrab, it arguably provides one of the quickest way to share screenshots with others. What makes it different is the way images are uploaded to its server; process of taking and uploading screenshots seems like happening in real-time, as it begins uploading screenshots the second you take them. In addition to saving images to server, it also syncs most recently uploaded screenshots across all configured PCs.
Apart from taking screenshots, it can also be used to upload and share files instantly. Just like any other file sharing tool, it automatically shortens the shareable link of uploaded file and copy it to Windows clipboard, so you can quickly send link to others via email, IM clients, etc. The Web UI categorizes images by date/time stamps, letting you easily manage and find uploaded screenshots. You can also enable one of its options to automatically create duplicate screenshots at defined local location.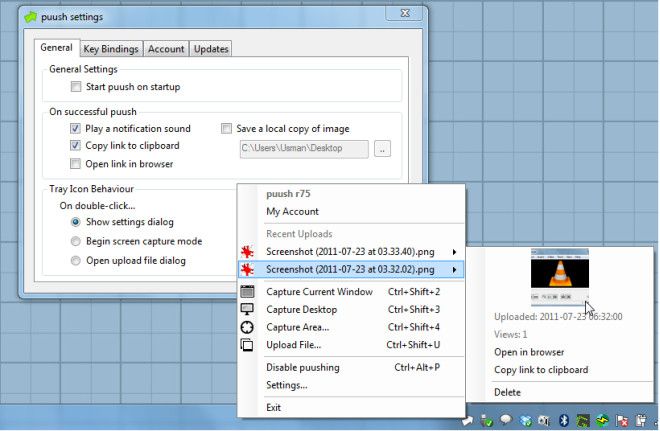 After installation, it sits in system tray. After signing up with the service, enter you login details and close the window. The first step is to configure the predefined hotkey combinations for capturing current/active window, current desktop, defined area, and for uploading image or non-image files to puush server.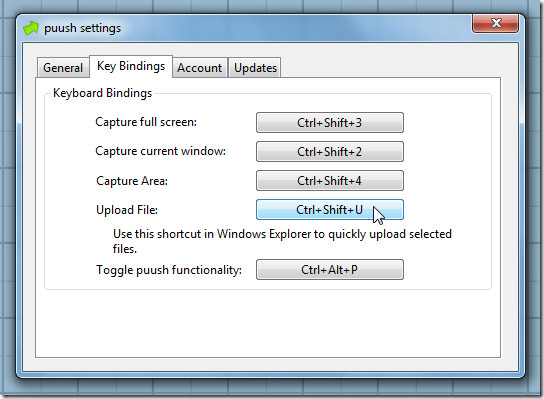 In General window, you can set default location for saving duplicate files and enable/disable sounds and copy to clipboard options. Once done, close the settings and use the defined hotkey combination to instantly capture screen area. Once taken, it will immediately start uploading it to server and copy the shareable link to Windows clipboard.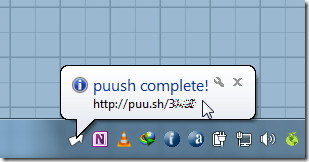 From web UI, you can view and manage all the screenshots as well as uploaded files.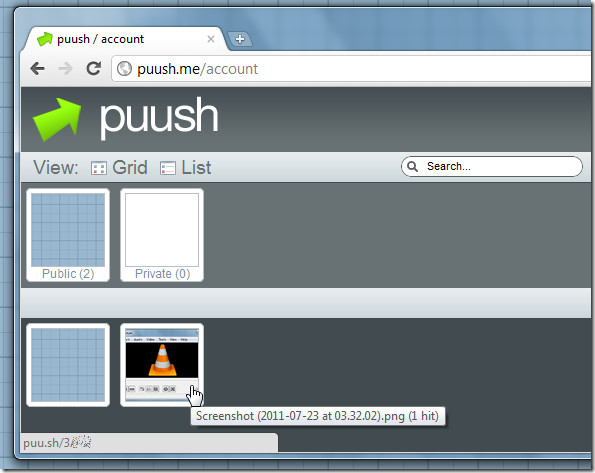 Puush certainly provides a quick solution for sharing screenshots and files with others. However, if you need to upload files and screenshots to your FTP server, Amazon S3, MobileMe, etc., we will recommend using TinyGrab (mentioned above). Users who are looking for screencast recording and sharing tool can check out Grabilla (also mentioned above). Pussh is available for both Windows and Mac.