QRGen Is Lightweight QR Code Generator With Multiple Image Formats
Whenever you go to you nearest grocery store, you must have noticed the sales man scanning a UPC (Universal Product Code) of your product. UPCs are barcodes and akin to UPC on your products, barcodes are used in numerous other ways. Barcodes are basically machine-readable, data-encoded images that contain miscellaneous information related to an item. The information embedded inside is non-readable to humans and cannot be altered, too. A barcode can contain any type of data, ranging from the price of an item to simply the download link of a song. Barcodes are now being used a lot on the internet in the form of QR codes, to distribute links among users. Should you own an Android device, you must have seen QRCodes in Google Play Store as well. Ever wondered how these codes are created? By simply using a computer application (and a little bit of your brain). Some days back, we covered a QR code generator called BarCode Generator, that would let you generate and export QR codes into images. If you wanted a lucid solution to generate QR codes, check out QRGen . It is a portable application that lets you to easily generate QR codes and save them into multiple image formats. Supported image formats include JPEG, PNG, BMP and GIF. Details to follow shortly.
The application is designed in a way to not confuse you with a lot of options, and is pretty easy to handle, with its intuitive interface design. The interface has the text input field in the top-right side, while options to change the Size, Error Correction method and Save the image in different image formats appear in the bottom-right side. The QR code appears in the left side of the main application window. To generate a QR code, enter the text in the provided field, and choose the Size from the pre-specified 100×100 to 500×500 image size list. Then, choose the Error Correction method, and hit the Generate button to create the QR code. You can export the image by saving it as PNG, GIF, JPG, JPEG or BMP.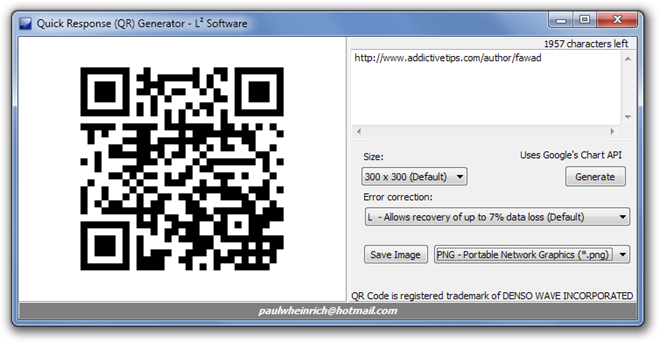 QRGen works on Windows XP, Windows Vista and Windows 7. Both 32-bit and 64-bit OS editions are supported.