Quick Quote: Easily Save, Retrieve & Manage Your Favorite Quotes
Quotes are past statements of a famous personality or writing. They are used as repetitions by many folks, as an ideal way to express one's feelings and thoughts on the subject at hand. They also give a powerful starting to an article or an essay. A good quote instantly catches the attention of the reader, giving them an insight into what to expect from the article. We read quotes almost everyday on different websites and magazines, but what usually happens is that a lot of us forget the right quote when we really need to use it. What you can do is write them down on a piece of paper, but that will also require you to take care of that paper and not misplace it. Moreover, you can't expect to keep it with you all the time. A better alternative is to store the quotes in your computer. If you were looking for a software specifically designed to store your favorite quotes, then Quick Quote might give a helping hand. It is an open source quotes manager that allows you to save and make a library of your favorite quotes. You can bring them up whenever you need them using different tags. The application allows you to search for quotes using tags such as names, dates, events, author or the quote title. Keep reading to find out more about Quick Quote.
The main interface of the application is quite user-friendly. A search bar at the top allows you to search for saved quotes using different tags. You can search for a quote using its title, author's name, date or any other tags entered while saving. When the search is complete, the relevant quotes appear in the right pane under Quotes Found. Click a quote to view its complete text, along with the author's name and the date on which it was saved.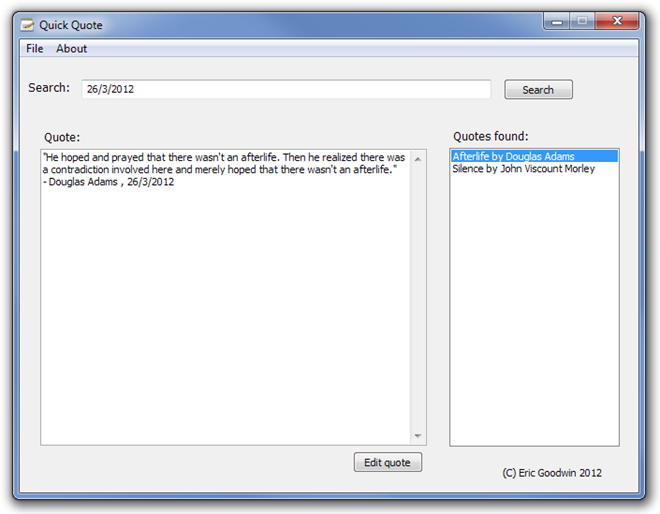 To add a new quote, select File and choose New Quote. To add a new quote, enter its Name, Quote text, Author name, Date and Tags. You can also view a random quote from the ones you have saved in the program by selecting Random Quote under File.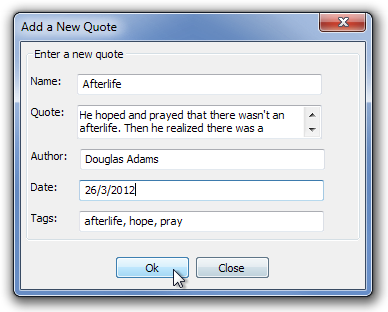 Quick Quote is an excellent utility, which handsomely takes care of the job it's supposed to do. It is a portable application and works on Windows XP, windows Vista, Windows 7 and Windows 8. Both 32-bit and 64-bit operating systems are supported.