Quickly Benchmark Your Hard Disk Or SSD's Performance With DiskMark
Whether you've just purchased a new hard disk or solid state drive and are curious about its performance, or you want to know the state your current drive is in, benchmarking software can be a great way to get a good idea of your drive's condition. While many advanced HDD and SDD benchmarking utilities may cost you an arm and a leg, there are a truckload of freeware alternatives available for Windows that let you measure the read and write performance as well as additional aspects of the drive without paying a dime. DiskMark is one such feature-rich yet ultra lightweight Windows application for quickly measuring your drive's performance that presents the results in an easily understandable way by including details like average response time, max and minimum read and write speeds in MB/s, total capacity and cache size etc. Read on for more details including screenshots and usage.
DiskMark runs flawlessly on both 32-bit and 64-bit versions of Windows. I tested the program on a 64-bit Windows 8.1 machine, on which it worked like a charm. The barebones interface carries two stats graph where the read and write speeds of the storage are shown when you launch the benchmark test. To the left are the result fields that provide relevant information when you perform the first test. Lets see how it works.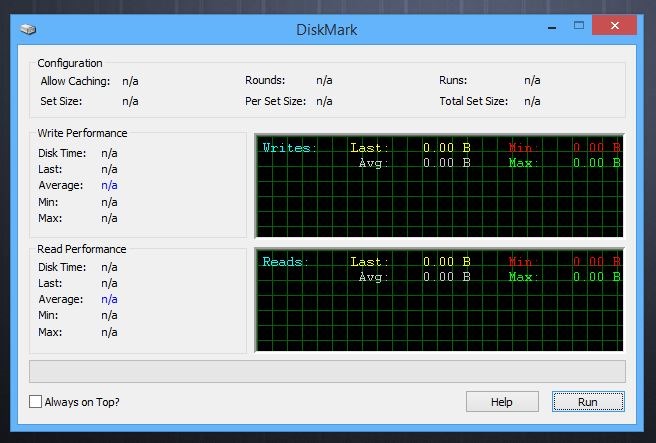 Upon launch, a small window pops up letting you choose the drive that needs to be benchmarked. Within this window, you can also enter custom values in the 'Set size', 'Rounds' and 'Runs' fields, as well as enable intermediate caching option if you wish. In case you've closed this window, you can simply click 'Run' on the main application window to bring it back. When ready, click 'Start' to begin the benchmark or 'Help' for further details.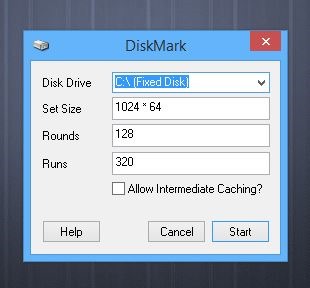 When the test is completed, you're provided with all the nitty gritty details about your storage drive. At the top, it displays your current input configurations that you set prior to commencing the test. Besides plotting the stats on the graphs that I mentioned earlier, DiskMark shows you useful stats such as disk time and last, average, minimum and maximum speeds for both read and write operations separately.
Because DiskMan doesn't provide any additional information like improvement suggestions or feedback, you will have to analyze the available data on your own about whether the disk is performing in its optimal state.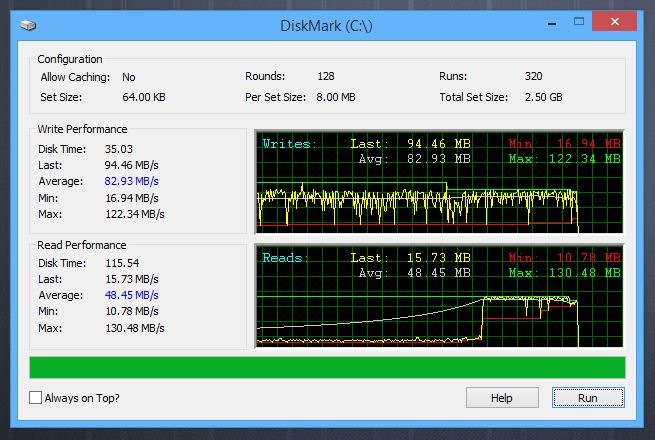 Overall, it's a very simple hard drive and SDD benchmarking application aimed at users who want to quickly analyze the performance of their drives.