Block Unsafe Or Inappropriate Internet Content With A Click Using DNS Angel
Stolen passwords, credit card theft, phishing scams, malicious threats, pornography and viruses – does the list stop here? Indeed not. It's 2013, the Internet has been around for over twenty years by now, and it has certainly become a more dangerous place since its inception. A lot of us put our privacy at stake by using a lot of online services (social networking sites, anyone?) and if your kids spend a lot of time on the Internet unmonitored, this can be create a lot of problems. While it does open endless possibilities of learning and exploring information for them, it also bring some risks of online child abuse, sexual harassment and exposure to profanity. Therefore, you need to make sure they don't lurk around in the unprotected corners of the internet. DNS Angel is small Windows utility that enables you to block any unnecessary internet content with a single click. The application does this by changing the DNS servers to three of the safest DNS services available for use.
Sporting a very simple and minimalistic design, the application lets you swap your default DNS server with OpenDNS, MetaCert or Norton ConnectSafe, All you need to do is launch the app and select your preferred DNS server from the available options. Each DNS server can be selected using its own button. The application shows your current DNS by default, and its potential security and privacy status, which shows a skill and crossbones symbol by default, signifying that it's currently unprotected.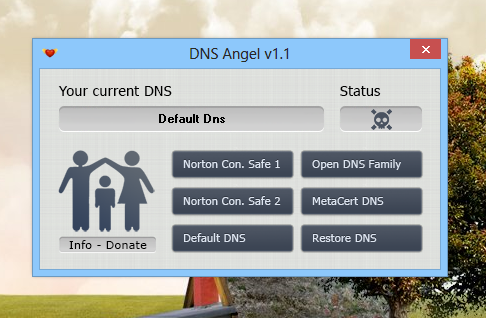 When you select a third party DNS server, the selected button turns green, and a heart sign appears under the Status area, signifying the connection as safe. Once you switch to any of the available DNS servers, DNS Angel displays the new DNS address along with the provider's name under 'Your current DNS'. When you choose a protected DNS, any potentially unsafe websites are automatically blocked.
The application doesn't require you to flush the existing DNS server before activating another one, meaning you don't need to revert back to the default one before switching to another one. In addition, you can restore your default DNS server anytime by clicking the 'Restore DNS' button. I couldn't figure out any difference between the Default DNS and Restore DNS buttons though.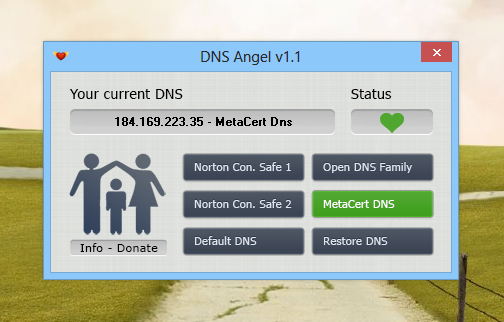 DNS Angel is an awesome application that makes the tedious process of switching DNS servers a a breeze. It's a portable application that works on both 32-bit and 64-bit OS editions of Windows XP, Windows Vista, Windows 7 and Windows 8. Testing was carried out on Windows 8 Pro 64-bit.