Quickly Create TrueCrypt Containers With TruPax
TruPax is a portable application which aims to bring ease in creating TrueCrypt containers. For those who don't have clue about TrueCrypt – it is an eminent opensource encryption program which comes with a long list of encryption algorithms to let users encrypt files and drives on the fly. The process of creating a Truecrpt container is simple but a bit dragging, since you need to specify multiple options in its wizard to create one. Trupax is built to shorten the lengthy process to create encrypted containers without demanding any pre-requisite, even TrueCrypt installation.
Additionally, it supports UDF (open file system for data storage) format which means that you can mount file containers on almost all OS platforms. As far the usage goes, it is utterly simple, just run the executable file to add as many files/folders as you want to create one TrueCrypt encrypted container. Once inserted, enter free space size (in MBs) which you want to fill later in container and specify container label. Click Make Volume to specify the output path where the you want to save the container.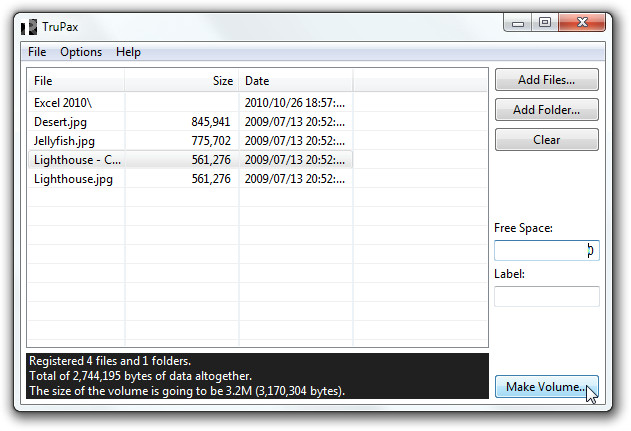 Finally, it will ask to specify password, discreetly choose a password and click Proceed to begin the process. It will start creating encrypted container at the specified location.


The application usage is simple for both novice and advance users alike, however, experts can further make use of it from Command Prompt. The application developer offers a detailed documentation, showing all the commands which one can execute from CLI. Since it eliminates the need of having TrueCrypt installed on your system for creating containers, it is worth giving a try.
The application works on Windows XP/Vista/7, provided you have JRE (32-bit) installed. Testing was done on Windows 7 x86 system.