Quickly Merge Multiple Music Or Audio Files Into One
Do you have multiple files in an audio book and you are looking for ways to merge them into one file? Or you have many mp3 files that you would like to join and listen to them all in one go? Merge Mp3 lets you do exactly that. You can use this application to drag and drop audio files into the playlist either change the order or keep the same, listen to it before mixing them all with preview option and convert all of them into one single MP3 even with ID3 meta data.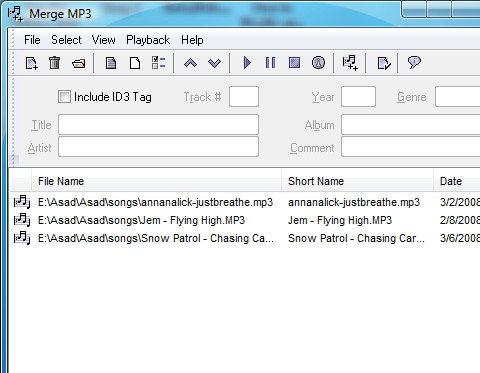 This software allows you to merge as many audio files as you want and doesn't restrain you in the size of an audio file. You can sort files by their filenames, date/time and size and can optionally write ID3v1 and ID3v2 tags into the merged MP3 file.
You can also view detailed information about the audio files to be merged including the header and ID3v1 and ID3v2 information. It also display an image embedded into the MP3 files and plays MP3 files from the list.
Do let us know if you find this application useful.  Enjoy!