Quickly Send Documents As Attachments Using Gmail Account With GFuwi
Usually, most people use email clients such as MS Outlook and Mozilla Thunderbird to fully manage their online or exchange server accounts from the desktop. However, not everyone has requirements that may entail using a convoluted mail client. GFuwi is an application designed to be a minimalist replacement for your email client. It does not provide complete mail client functionality; rather, it serves as a quick mechanism for attaching any kind of document or file and send it using a Gmail account. GFuwi is a lightweight app which works with any program that supports sending attachments including MS Word, MS Excel, Adobe Reader, Open Office and several others.
To get started, click Add Account and enter Gmail account credentials. You do not require configuring any complex SMPT or POP3 settings. After you add an account, click Make Default option to set GFuwi as your default mail client. GFuwi has both a paid and free version, with the free version being limited to a single account. An upgrade to the paid version will let you add unlimited number of accounts (worth $15).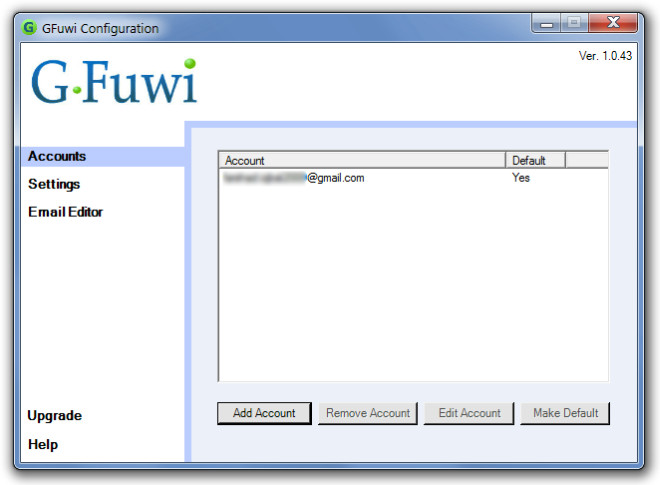 Once done, you will be able to send any document using GFuwi by sending the file via Windows' Send to option.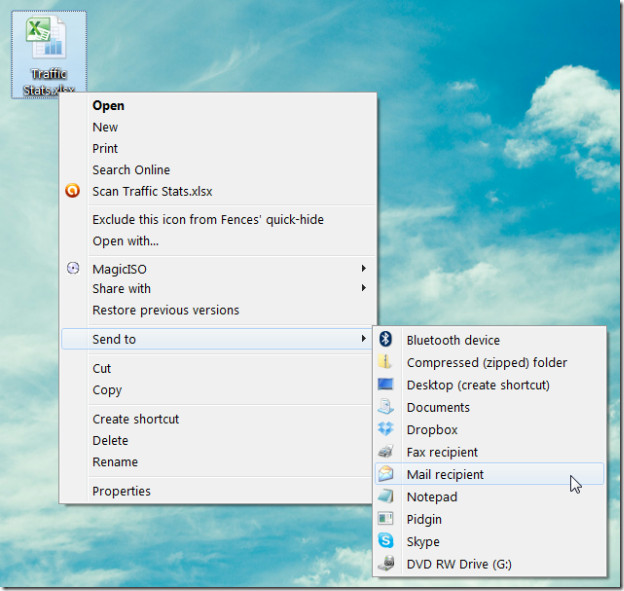 Alternatively, you can use the built in attach and send functionality of the respective application.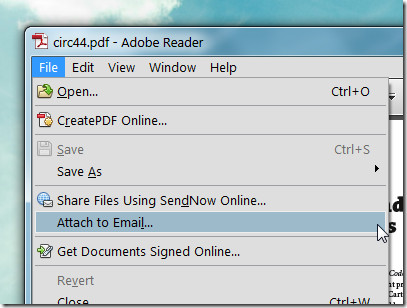 This will open a new window with the attached document where you can compose your email. GFuwi automatically detects your Gmail contacts and provides suggestions for recipients from your Gmail contact list. The mail composing options are as rich as the Gmail default interface.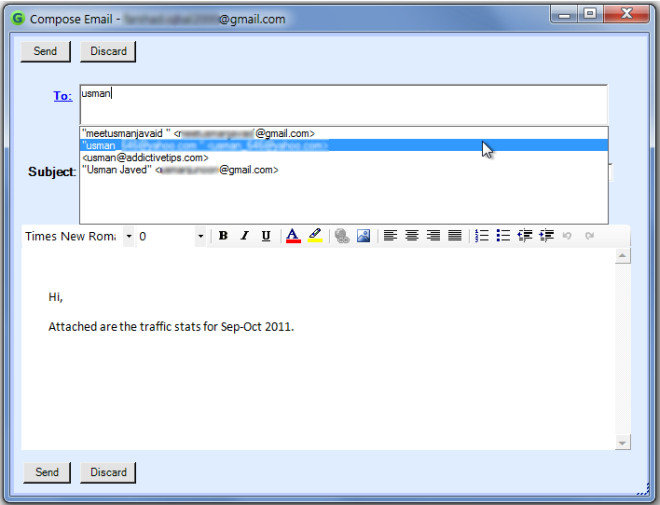 During testing, we found the GFuwi memory stamp to be approximately 8 MB. This is a lot less than MS Outlook, which can consume up to 54 MB of system memory. Hence, GFuwi can be used by people who do not wish to use resource-intensive mail clients and would like to send attachments without having to visit Gmail via a web browser. GFuwi works on Windows XP, Windows Vista and Windows 7.