RAMRush – Optimize Your RAM When Memory Is Low
If your RAM routinely gets overloaded, memory optimization is something you should consider. So what is memory optimization and what benefits does it have? When a memory is optimized, all junk processes(with lowest priority) that take up large amount of RAM are killed. In this way some memory is freed up resulting in better system performance.
RAMRush is a free memory optimization utility for Windows that can optimize your system memory automatically when it is lower than 8% of the total RAM. In this way the chances of memory overload will be reduced marginally. RAMRush can also be used to monitor the CPU and RAM performance in real-time. Just move your mouse pointer over the system tray icon and you will see the stats instantly.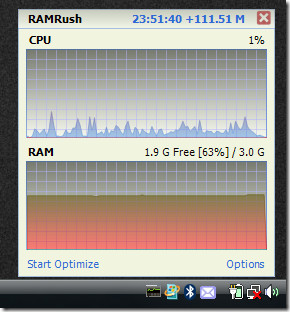 You can also assign the hotkey to optimize the RAM(default is Ctrl+Alt+O) and change the colors of CPU and RAM graph. From options you can select some basic options such as, start program during system startup and show notification when optimization is complete.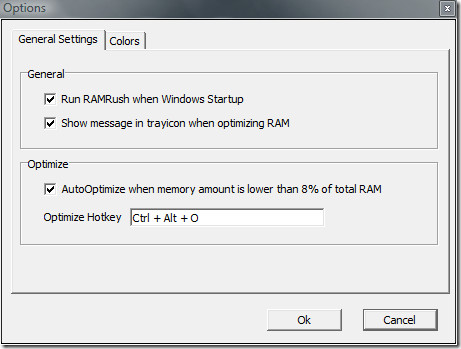 Even through we have covered some previous RAM optimization tips here and here. RAMRush is still worth giving a try.
It works on Windows XP, Windows Server 2003/2008, Windows Vista, and Windows 7. Enjoy!