Read Comics On Windows 8 & RT With ComiXology's Modern UI Comic Reader
Everyone has their own favorite activities to help them relax after a hard day. Some like to watch movies or TV shows, some listen to music, while others like to read. Reading comics, stories about adventures in far-off lands, or battles among the forces of good and evil is another thing people like to do to in their free time. In fact, for some, it is more than just a hobby. Following the global shift from paper to digital publications, comic books are now also available in digital form through various websites and clients. Recently, ComiXology – the team behind one of the most popular comic readers on Android and iOS – gave their Comics app for Windows 8 and RT an overhaul, bringing it closer to completion. The app allows fans to access and read an archive of more than 30,000 comics by famous publishers such as Marvel and DC.  The available comics are divided into separate categories, allowing you to instantly locate your favorite ones from the huge database.
The main interface displays a lot of comics neatly grouped into separate categories. The first category called Featured contains the comics that are currently in high demand. The Quick Links section lets you access different groups and selections such as Kids Comics, Collections, New to Comics, Free Comics, Top Rated, etc. Scroll to the right to view more categories including Same Day As Print (bringing you the digital versions of paper comics as soon as they are released), Digital Firsts, New & Noteworthy, Staff Picks and more.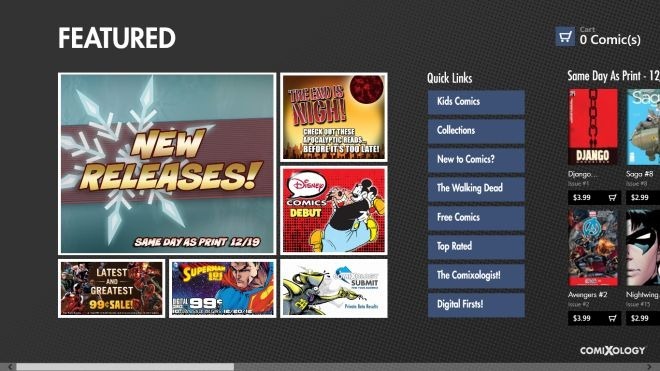 When you open a category, all the related comics can be bought and read according to their titles. Subcategories are also available to further simplify navigation.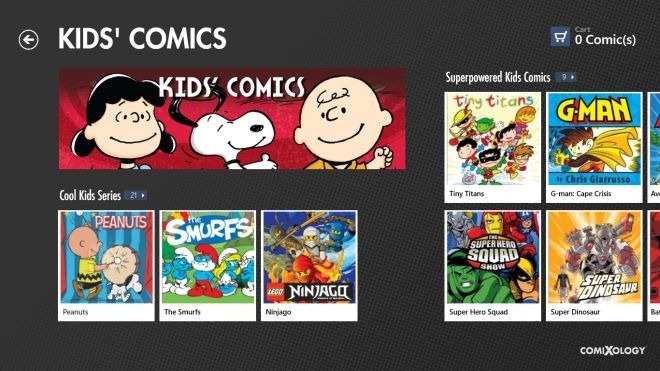 Opening a particular comic gives you a basic description and information about the comic script,  its preview, and list of all the available issues as well as graphic novels associated with it.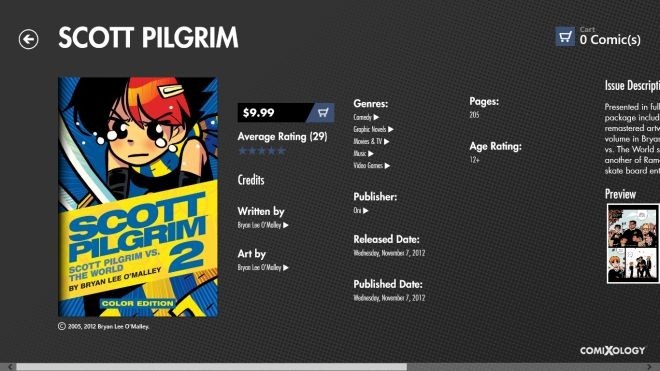 The comics can be read in a clean, distraction-free interface with a black background. Even though the focus of the app seems to be on simplicity, the lack of options related to changing the background color or number of pages to be displayed can be a noticeable shortcoming to some.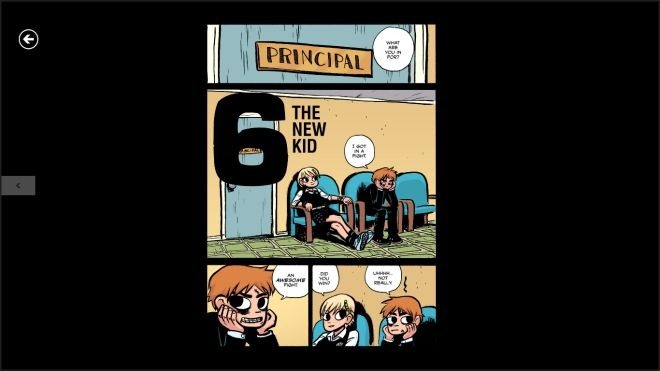 You can right-click anywhere inside the app to reveal the app bar and quickly access its different sections including Just Added, Popular, Marvel, DC, Series, Publishers, Creators and Genres.
Comics works on devices running Windows RT, as well as both 32-bit and 64-bit versions of Windows 8. In order to get the app, go to Windows Store and search for "Comics" or open the link below and click 'View in Windows Store'.