Reading List Brings Cross-Device Synced Bookmarking To Windows 8.1
Windows 8.1 has brought back the Start button and that's reason enough to celebrate for many, but this new version has also brought with it some new apps, of which Reading List is something a lot of us are bound to love. This new app works best with Internet Explorer set as your default browser, but will also work if you're using a different one. Reading List is a standalone app that you can save links to from the Share Charm from other apps. The saved links can then be read later. To most users, this might seem to be a Pocket-like service but it mimics the reading list  feature in Safari to some extent, with the exception that it can work with any browser, making it much better. Other than being able to work with other apps and any browser, the app is pretty basic in the sense that your links cannot be organized into folders, nor categorized in any other way. A search bar within the app makes the process of finding the right one pretty easy though.
To save a link to the Reading List app when browsing (you can use any browser you like), open the Charms bar and click the Share charm.
Reading List appears in the share options along with the Mail and People apps. From the Reading List panel that opens, click the app's button and it will be added to Reading List.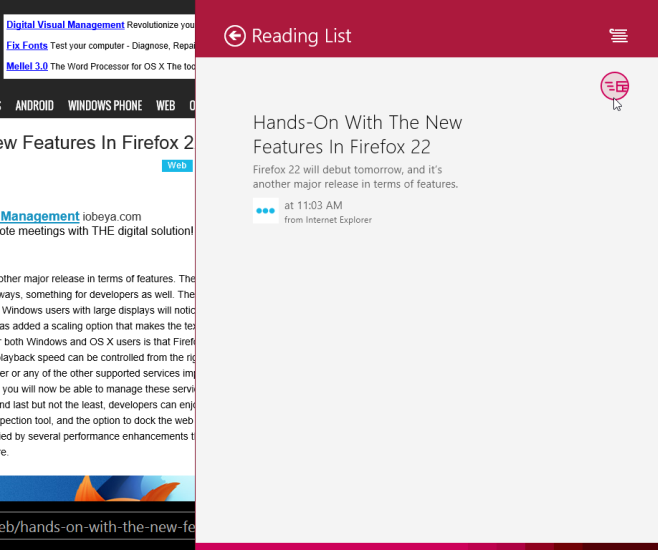 Open the Reading List app and select a link to read. If you have Internet Explorer set as your default browser, Reading List will snap to the left automatically and open Internet Explorer on the right, allowing you to see both apps side by side. You can easily open another link like this. If Internet Explorer isn't your default browser, clicking a link will result in you switching to whichever browser you've set as default. It's slightly less convenient because in order to open a different link, you will have to switch back to Reading List. Though you can still manually place Reading List and your browser of choice side-by-side.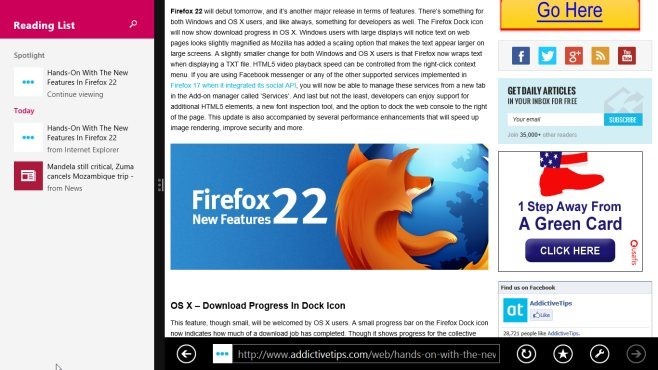 To remove a link from Reading List, right-click to select it and click the 'Delete' button from the bottom app bar. You will be able to access your recently deleted links from the top app bar. Links once opened are not automatically removed from the list, and there is no 'mark as read' option either.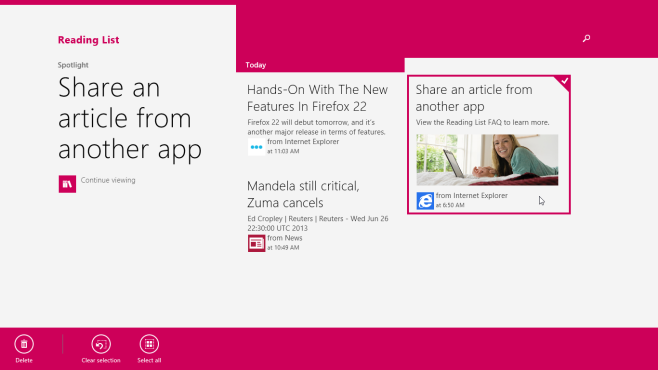 Reading List can keep deleted links for a maximum period of 60 days and a minimum of 10 days. To set how long your deleted links should be kept, open the app's options from the Charms bar and set the time period that suits you. There are no other customization options available for the app.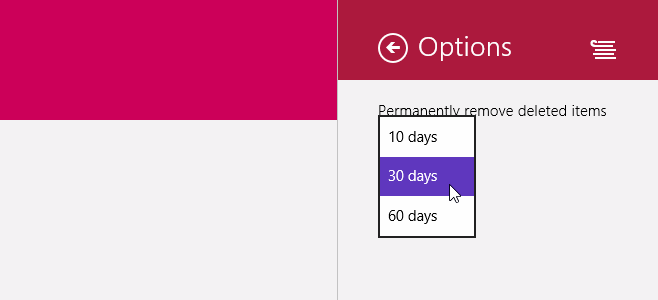 Reading List is a good addition but obviously appears to be a work in progress. The very least that's needed is folders and a 'mark as read' option. If Microsoft wants to go the extra mile, they can add an RSS reader to it as well.