Reboot From One Windows Installation Directly Into A Secondary One
Even after the final release of Windows 8, a lot of people, including myself, are still reluctant to upgrade to the latest operating system and leave Windows 7 behind. However, one should not form an opinion about anything without actually experiencing it first hand. In order to get a feel of Windows 8 (and because this line of work requires it), I installed Windows 8 as a secondary operating system on my computer. So, whenever it is required, I can now use Windows 8 without having to completely ditch my primary operating system. Since my work requires me to constantly switch between the two operating systems, I have to restart the computer a lot during the day. The biggest annoyance in this regard is that in order to boot into the required operating system, I am forced to sit and wait in front of the computer screen until the boot menu appears. Today, I came across a simple tool called Reboot-To that allows users to reboot directly into a specified operating system without having to wait for the Windows boot menu. You can select the operating system you want to reboot into while you're logged into one, and use the time the computer takes to restart to stretch your legs or get a cup of coffee.
The application runs quietly in the system tray after installation. All the options can be accessed by right-clicking its icon. The tool automatically recognizes all the installed operating systems and creates a list allowing you to choose the one you want.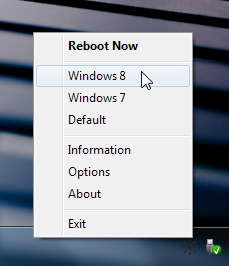 Simply select the operating system that you want your computer to reboot into, and hit the Reboot Now option at the top of the menu to do so. Choosing Default will set the computer to boot into the primary OS. Selecting the Information option displays detailed info about the Windows installation you are currently in.
Note that the tool doesn't work for reboots only. Once you select an operating system from the list, your system boot directly into it even after a shutdown.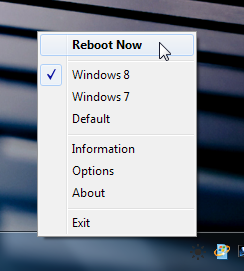 Select Options from the right-click menu to tweak the basic settings of the application. You can choose to Start with Windows (launch the app when Windows boots), Reboot on Selection (when this option is enabled, the computer will reboot instantly upon selecting the desired operating system), and Auto Check for Updates.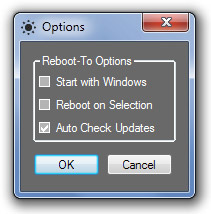 Reboot-To  works on both 32-bit and 64-bit versions of Windows XP, Windows Vista, Windows 7 and Windows 8.