Record Clipboard Text To A List With Clipboard Text Recorder
Windows native clipboard holds a single text snippet at a time, which means should you need to copy multiple text snippets here and there, you'd need to recopy each line every time you want to use it. For general use, a single clipboard item does the job, but if your work requires a lot of copy pasting, then you're probably left in the dust. Luckily however, there are a number of third-party software solutions that suffice the job, via keeping multiple text snippets into their integrated database. As clipboard managers are in vast number, only a few one actually stand out by providing some sort of unique functionality. One such that we found is Clipboard Text Recorder, which is both light-weight and user-friendly. It is a clipboard manager that automatically records the text you copy, so that you can easily paste saved text snippets in required workspace. It may come handy in situations where you are reading an article and feel like saving some excerpts. Normally, you will have to open a notepad (or any other similar application) alongside the article, and paste each part one by one, but Clipboard Text Recorder lets you record all the parts in one go, and then, when you're finished with the article, paste them in required application.
The main interface has Record, Stop, Clear Clipboard and Exit buttons at the top. The Recorded Clipboard Items list is present at the left side, content of selected clipboard item appears at right side, while Clear Item, Copy to Clipboard and Export to File options are lined up at the bottom.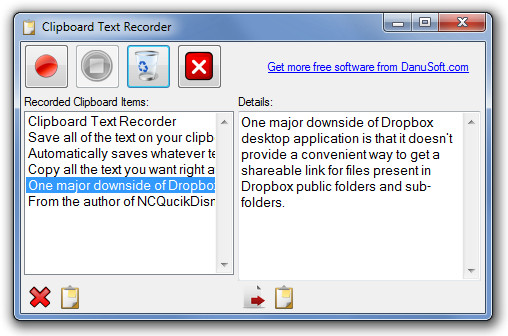 Click Record to start recording the clipboard items. When recording is enabled, any text that you copy will be saved directly into the application.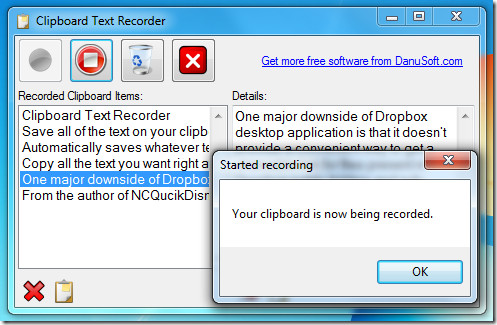 When you want to paste the contents of clipboard, first click Stop, select an item and then click Copy to Clipboard. Now, you can paste the selected text in required application. Clicking Export to File button will save the text snippet in TXT format.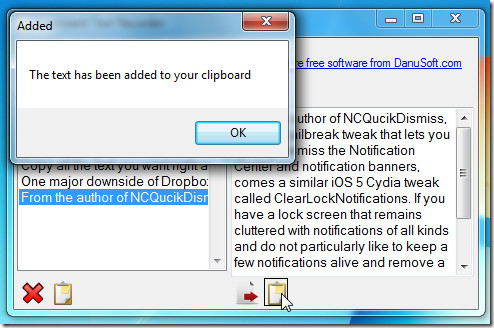 Even though its great, there is one downside of Clipboard Text Recorder, which is, for every action a notification window pops-up and you have to click OK every time to get on with your task. We hope that developer will provide an option to disable this feature in the next release. Other than that the application works like a charm. Clipboard Text Recorder works on Windows XP, Windows Vista and Windows 7.
Download Clipboard Text Recorder