Record Keyboard Activity And Mouse Movement/Clicks
Auto Clicker Typer is a free tool for Windows that records all keyboard and mouse activity and then let's you reply it later. In my opinion, it can come handy if you have a friend fixing your computer and you are not near him, then what you can do is to start this tool before he begins the repair work and watch it later when is leaves. In this way you can know how he repaired the problem. 😉
Another useful need is when you want to protect your children from strangers by recording keyboard activity? And what if you want to record mouse clicks and movement too? Most keyloggers only record clicks, but what if you want to replay the whole activity like a video?
Here is how it works, run the tool and click Record. Once the recording begins, you can minimize it to the system tray. When you are done, open the tool again from the system tray and click Stop.

As you can see from the screenshot above, you will find a list of all mouse clicks and keyboard activity, but don't be confused, this list is for the application itself not for the user. The next step would be to click Save List, again don't get confused since it won't save the list to the text file, rather it will create the whole activity file. When you open this activity file, the whole recorded activity will be played on the screen.
By default, this tool will only record Keyboard activity and Mouse clicks only, but you can also record cursor movement by checking Record Cursor Movement checkbox before clicking Record button. You can also set Hotkeys for various operations, thus making it much more easier to work with.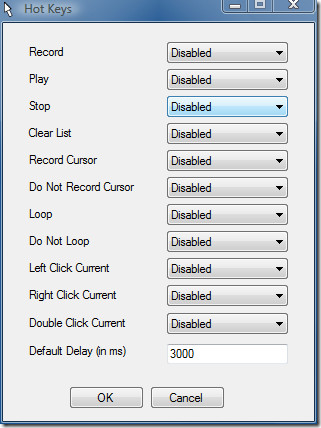 Overall, it is an excellent and a must-have tool for everyone. One thing that makes it stand out from the rest is innovation, it solves the problem in a very unique way. It runs in the background without disturbing any work and is barely noticeable. Unlike other tools, this one is free of charge and works on Windows 2000/XP/Server 2003/Vista/7. Enjoy!