Record Mp3 Audio Directly From Sound Card
The build-in sound recording tool in Windows 7 is incomplete and records to only wma format. Why incomplete? Because you do not have an option to choose the device, line, pre-defined duration, volume, and bitrate. Most importantly you cannot save the audio in mp3 format.
MP3 Sound Recording Tool is a simple portable utility that has all above mentioned options build inside the app. Select the desired volume and bitrate, the device, line, duration, and select the destination. Hit Record to begin.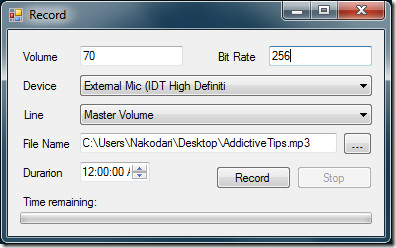 This nifty little tool doesn't require any 3rd party packages and works as a standalone program in all versions of Windows.
Download MP3 Sound Recording Tool