Record Skype Calls In High Quality With MP3 Skype Recorder
If you're looking for an automated Skype call recorder that can grab conversations in high quality and quickly save them with time stamps, MP3 Skype Recorder will certainly come handy. It's a Skype call recording application that not only records P2P conversations but conference and SkypeOut calls as well in high quality MP3 format. What makes it different from previously covered Skype recording applications, such as, CallGraph Skype Recorder and iFree Skype Recorder, is the way it interacts with users. It lets you know when call recording starts and what's the duration of call recording while showing other useful call related information.
On the main interface, you can tweak with recording mode and bitrate. It supports bitrate upto 128 kbps, which is considered to be equivalent to audio CD quality. Apart from mono, stereo and joint stereo modes can further enhance the quality of call recordings. Additionally, system tray controls are also available; when you don't want to record calls, just turn Skype call recording off, you can turn recording on anytime later.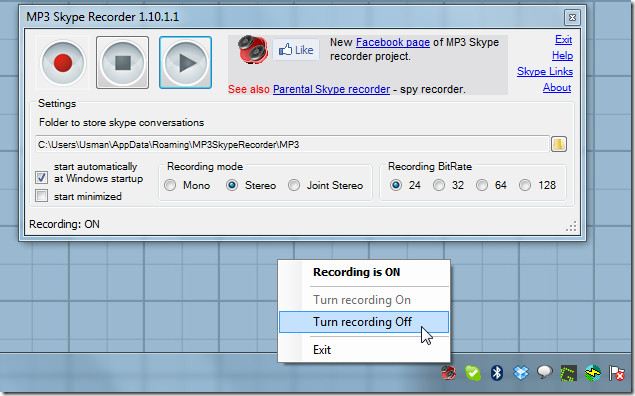 When you receive/make a call, a small message box pops up from system tray, informing that the call recording has been started. After you've ended the call, it shows the recorded call name with option to play it in default media player.

By default, call recordings are saved in AppData/RoamingMp3skypeRecorder folder, but you can change it to any handy local location. The recorder doesn't have an in-build audio player to play the recordings. Therefore, when you click Play button, it opens call recordings archive folder. MP3 Skype Recorder works on Windows XP, Windows Vista, and Windows 7.