Record Streaming Music, Internet Radio, And Webcasts Easily
Do you want to record a music that is being streamed on your MySpace page or any other site? Or maybe you want to record an Internet Radio or Webcast so that you can listen to it later? If you have a microphone and Free Hi-Q Recorder, you can record just anything for free.
Free Hi-Q Recorder is an excellent voice recorder with multiple functionalities that is easy to use and works seamlessly.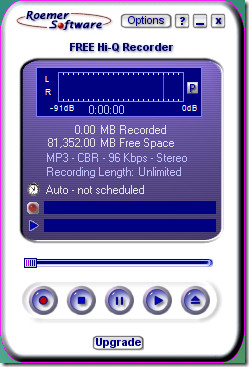 According to Roemer Software the company behind this software,
It's the easiest way to record absolutely any sound in real-time! Record directly to MP3. Set your MP3 quality by selecting your MP3 Bitrate and stereo or mono. The MP3 quality is excellent at all settings! Record streaming Internet audio or video broadcasts or webcasts of any kind, whether it's news, sports, music, talk radio or any other format, (records audio only). Record audio or video sounds from DVD, Windows Media Player, RealOne Player, Winamp, QuickTime or any other media player, games, Midi, Software Synthesizer, etc.

Convert, (record), LP's, any records, tapes, CD's, radio, DAT, Mini-Disc, video tape sounds, T.V. sounds, video games, telephone, microphone or from any other external device. Record satellite radio, XM or Sirius. You can also use it as a universal audio or video sound file converter.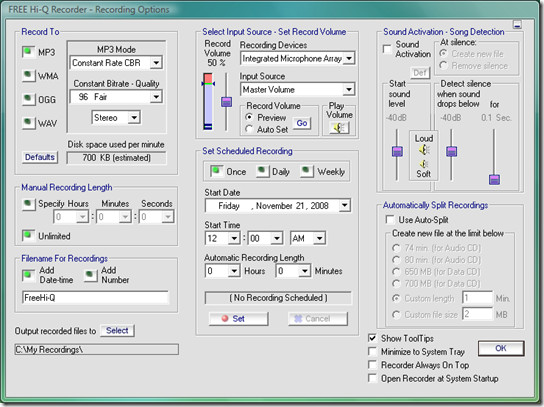 You can set the bitrate and the record audio in MP3, WMA, OGG, WAV formats. I would recommend not changing the default settings if you are a novice user.
Overall its a great little tool for recording almost everything easily. Try it out and let us know if you have any queries.