Record Time-Based Network Bandwidth Utilization Stats With NetTraffic
Bandwidth utilization stats are sometimes required to analyze the upload/download rate of each network interface, in order to access areas where bandwidth may be getting wasted. For example, many corporate internet packages are restricted by a data cap, and exceeding the data cap can result in hefty costs for the business. In such a case, the network administrator may be required to submit a report regarding bandwidth usage. While such stats are nearly impossible to accurately gather by conventional methods, you can, however, use applications like NetTraffic to record such stats over a period of time. NetTraffic is a network monitoring tool for keeping an eye on the network data rate. It provides information about the downloaded and uploaded data, as well as delivers numerical and graphical charts to provide details about network usage by hour, day, month and year. Other than real time graphs from the main interface, NetTraffic also provides bandwidth utilization stats right from the system tray menu, in the form of a small pop-up window. Other features of this application include the ability to import/export statistics, customizable charts and support for multiple network interfaces.
All you have to do is to make sure that NetTraffic consistently runs at system startup (which can be done by setting the application to auto-start at system start up), so that data for bandwidth utilization can be efficiently recorded. You can get real time stats by clicking the NetTraffic icon from the system tray.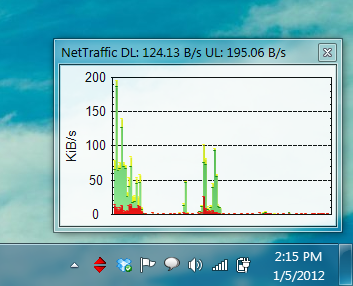 For obtaining for in depth stats, you can launch the statistics window from the system tray menu.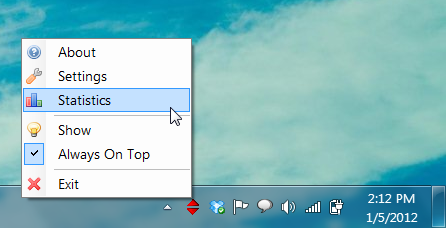 The General tab of the Statistics window displays bandwidth usage with numerical stats, which are stated according to Year, Month, Day and Hours. The data includes the current state, average data usage an prognosis.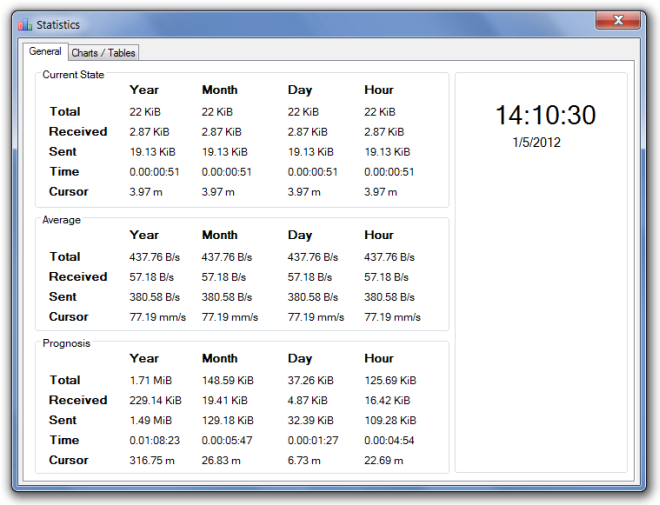 The Charts/Tables tab displays the same data in graphical form. The data can be sorted further by selecting a time unit, i.e. Hour, Day, Month or Year.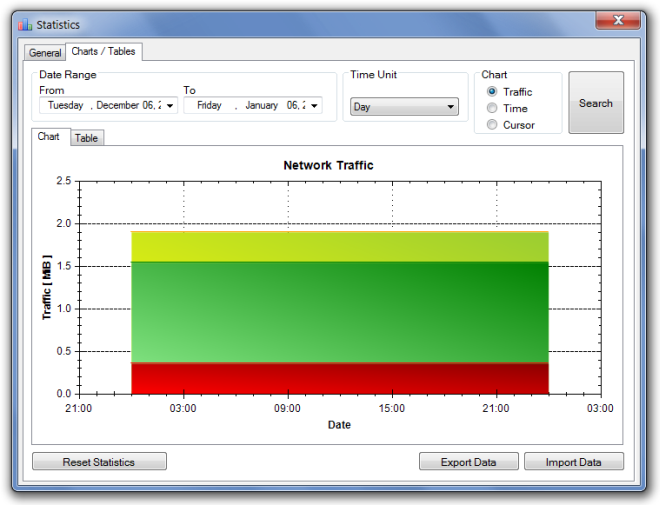 NetTraffic works on Windows XP, Windows Vista and Windows 7.