Recover Lost And Deleted Files With Restore Deleted Files Now
Restore Deleted Files Now is a free and simple recovery application to quickly perform complete data recovery. It  restores deleted files before they are overwritten. You must keep in mind that any file recovery program can only be used to  recover deleted files without any guarantee of complete data restoration.
From the main interface click Restore Deleted Files from sidebar and specify the disk that is to be scanned. You can also choose to recover files with a particular extension only, for instance *.xml, etc. Click Scan to let application scan the selected disk and display the file list along with their chances of recovery and corresponding size. After scanning is completed, you can select files and perform recovery by clicking Restore selected files.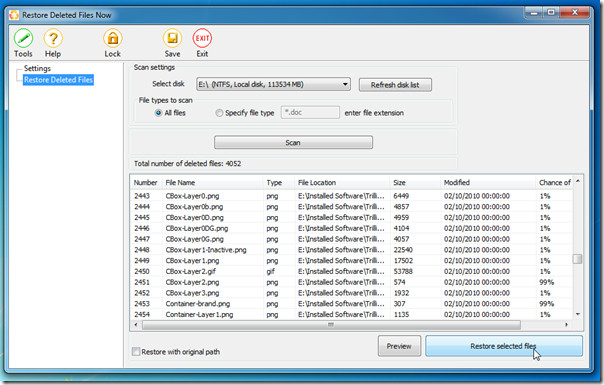 The application also supports locking the program for which you must specify a password from the Settings sub-menu. You must specify data recovery output path of an external drive or any other remote location as attempting to restore data to the same device can lead to permanent loss of data.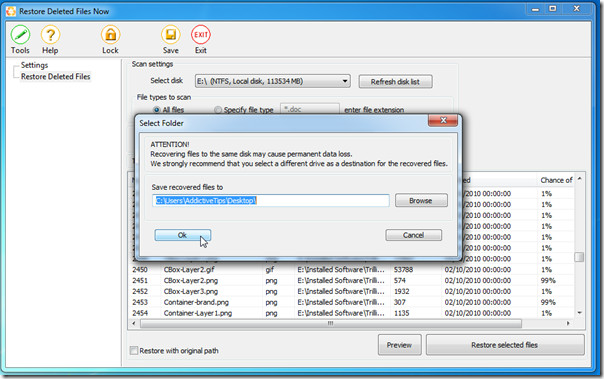 It is a useful recovery tool, especially recommended for minor recovery tasks. So long as you're careful about recovering data to some other external device only, there is no harm in giving this application a try.
It supports Windows XP, Windows Vista and Windows 7. Testing was carried out on Windows 7 x86 system.
Download Restore Deleted Files Now
For more, you can check out RecoveryDesk and Redo Backup & Recovery.