Red Button – An Ultimate All-In-One Advanced Windows Tweaker & Optimizer
Red Button is a recently launched unique all-in-one tweaker for Windows. It is a light-weight tool which lets you disable almost any feature that you don't need and also helps in optimizing your system's performance.
Once installed, click the Start button to continue the cleanup process.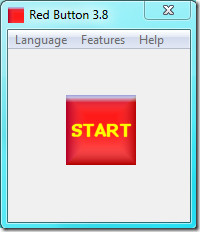 But before doing so, make sure to configure the operations that this tool should perform whenever you hit the Start button. Click the Features menu and the Features window will be launched, here select your desired options. There are four tabs given – CPU & RAM, HDD, Garbage, and Registry.
Note: This tool is not targeted towards beginners, it is ONLY for ADVANCED USERS. Some featured deleted(not disabled) using this app cannot be undone later, you will need the distribution kit from where the OS was installed.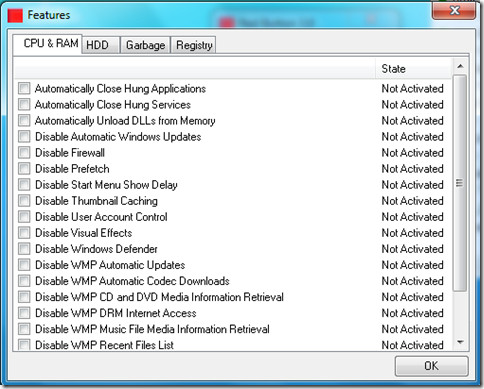 The key feature of this tool is that it can easily perform many tasks related to accessibility options, backup status and configuration, calculator, character map, default music, default pictures, default video, desktop wallpapers, disk cleanup, disk defragmenter, games, help, network projection, paint, Windows remote assistance, screen savers, tablet PC, Windows Mail, Media Center, Sounds, Sound Recorder, sync center, sidebar, WordPad, Windows updates and more to help you gain more space, strip down the features to only the ones that you need, and to run the system faster.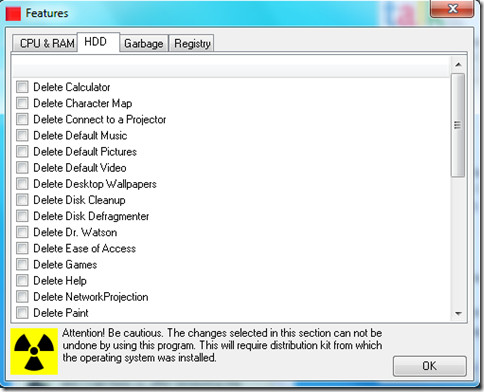 The Garbage tab contains all items that can be cleaned. Such as, Clipboard History, Downloaded Program Files, Empty Folders, Internet Cache, Internet Cookie, Internet History, Logs, Memory Dumps, Prefetch Directory, Recent Document History, Scandisk files, Startup List, and more.
While the Registry tab allows you to remove registry keys of Obsolete Software, Missing Shared DLLs, File Associations, and more. Both Garbage and Registry tab has the options to Analyze certain items and exclude others.
It works perfectly on Windows XP, Windows Vista and Windows 7. Enjoy!