Redefine Global & App-Specific Hotkeys In Windows With Shortcut Maker
Muscle-memory is essential to keyboard use. Switching to a Mac keyboard from a Windows one, or to a Windows keyboard when you've been using a Mac one for a decade can be quite a transition. But this breaking-in period need not effect your productivity. Shortcut Maker 1.2.1.1 can help you reconfigure hotkeys to your favorite programs and avoid overlap. It can also replace an application's default shortcuts with simpler, easier ones to make your keyboard experience all the more ergonomic.
After installation is complete, the app will add a small, blueish keyboard icon in the systems tray portion of the taskbar. Right-clicking it will display a menu where you can either exit the application or open up its main settings window. You may also double-click the icon to quick-launch that settings window.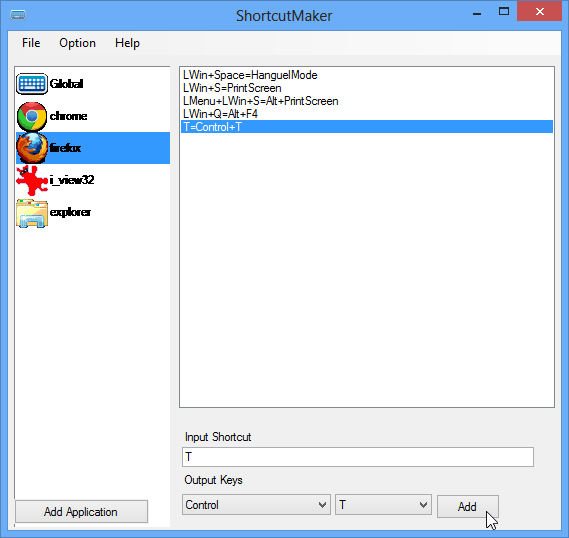 To add an application, make sure you're running it, then click "Add Application" and select it from the pop-up that follows. You'll see a few predefined hotkeys for the newly added program. They're under "Global", meaning their functions are applicable to all the other applications. You can, of course, delete any shortcut you don't want by selecting it from the list on the right and pressing delete or backspace on your keyboard. Unwanted applications can be deleted similarly.
Shortcut Maker's primary function is to replace an application's default hotkeys with easier, simpler and more direct keyboard shortcuts, making its various functions much more accessible. This is particularly helpful for applications you regularly use, like your web browser.
In the screenshot above, I've configured an easier hotkey for opening new browser tabs in Firefox. I've put "T" in the "Input Shortcut" bar and selected "Control" and "T" from the "Output Keys" drop-down menus. So now, every time I want to open a new tab in Firefox, I need only press T instead of the default Ctrl+T combination. My new hotkey appeared in the list as soon as I "Added" it.
Chrome users, on the other hand, may be disappointed; we tested the Shortcut Maker successfully with a bunch of applications, but found it incompatible with the browser. Every time you switch to another application, Shortcut Maker's system tray icon displays a small bubble showing its name. This does not seem to work for Chrome, which might mean that the application simply fails to detect it, and thus, any hotkeys assigned to it.
Some people prefer to bring along their old Mac keyboard when using a PC for the first time, and this is quite a handy program for them. But more than that, Shortcut Maker's ability to redefine any hotkey helps make the keyboard invisible again as you engross yourself in your work.