Reg Is A Windows Registry Editor Alternative With Bookmarks & Better Search
Windows Registry is a central database that carries information regarding configuration settings for user profiles, applications, system settings and utilities, device drivers etc. in a single, well sorted and organized information hive. All versions of Windows are shipped with the Registry. Even though it's quite genuinely useful, the native Registry Editor tool does feels fairly lacking when it comes to its limited features; it seems quite tedious to browse and doesn't offer a way to quickly jump to a certain registry key or location. The open source program Reg has come forward to solve this nuisance. It not only allows you to quickly hop to your desired registry key, but also lets you bookmark registry locations, and offers a few additional features.
In contrast to the native Registry app, Reg sports a reworked interface that carries a quick shortcut bar at the top for actions like find, copy path to clipboard, rename, delete, import/export registry file and more. There's also a bookmarks tab at the bottom. The bookmark feature is very useful for quickly accessing frequently-used registry keys. For instance, if you want to use a registry hack that needs frequent modification, bookmarking it can prove to be a big time saver. Any registry path, location, value or key can be bookmarked via the right-click context menu. Besides base key and branch, you can easily specify your own description for the bookmarked item.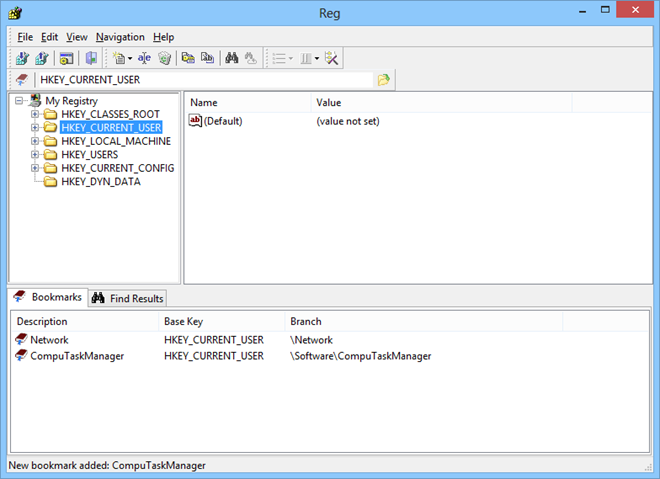 Bookmarks isn't the only thing that makes Reg so powerful; there's also an integrated search feature that allows you to navigate and search registry items in an incessant way. Unlike the Find option in the default Registry Editor, the Find option in Reg allows you to find all related and matches registry items in one go once you type in the text and hit enter. You can also choose search type (exact match, substring match, regular expression), search scope (entire registry or selected subtree) and other miscellaneous options to fine-tune your search.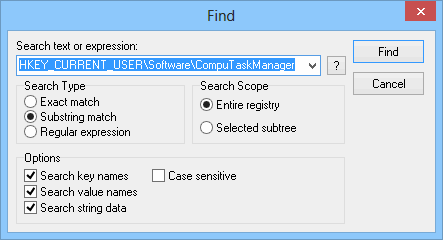 And in case you need to instantly jump to a certain registry location, you can opt for the registry path option that gives access to the specified registry item in a jiffy.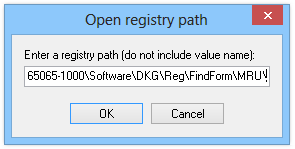 Overall, Reg is an extremely powerful alternative to the native Registry Editor of Windows. It works on all Windows operating systems including XP, Vista, 7 and 8.