ReloadIt Alerts You On Finding Changes In Web Pages Of Your Choice
One annoyance which many web developers face while viewing changes from application development IDEs is that development platforms only open or refresh the local webserver (localhost) link without providing any option to automatically update the web document. Since there is no direct way to monitor changes in HTML, PHP, ASPX, CSS document to view the updates and changes as they happen, therefore they have to either refresh the web page manually by hitting F5 to view the changes or use a third-party script to automatically update the page after defined amount of time. ReloadIt is a standalone application for Windows which enables web developers to monitor multiple HTML,PHP, ASPX, CSS, etc, documents to show visual alerts as soon as the change happens. RelaodIt works like Live Reload, a popular web developer tool to view changes in real-time. The downside of the ReloadIt is it only works with Internet Explorer.
Apart from monitoring changes in documents on local webserver, you can add any specific web page to monitor the changes and updates. When it detects an update, it immediately prompts users with links to quickly view the changes and additions. The application works in conjunction with Internet Explorer. Just open the URLs that you want to monitor in Internet Explorer. Once all pages are done loading in the browser, launch ReloadIt and press F5 to fetch all opened links.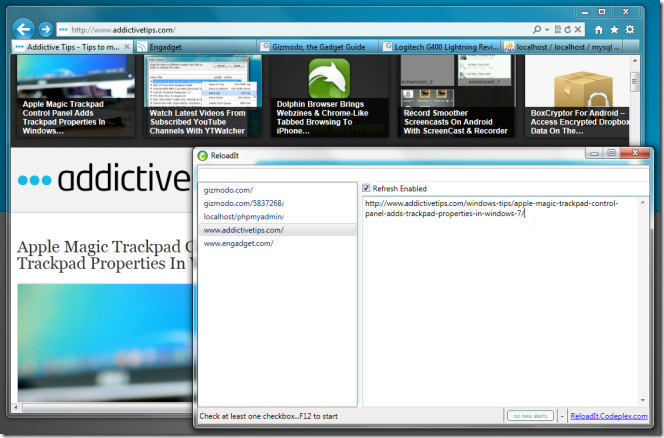 When all links are added to the application, you can separately add URLs underneath Refresh Enabled checkbox to monitor the changes in specified web documents. Now enable Refresh Enabled option for URLs and press F12 key to start the monitoring process. When it finds an update, new addition, or change in document, it will prompt you to view the changes.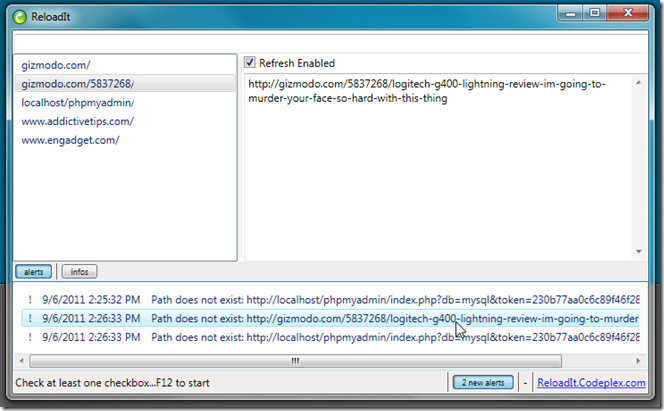 The Alert button in Status bar shows the total number of alerts it found during the monitoring process. Upon click, it will show all the updated links with time stamps. ReloadIt also lets you bring any selected tab to front, close the tab and manually refresh the tab from web link right-click context menu.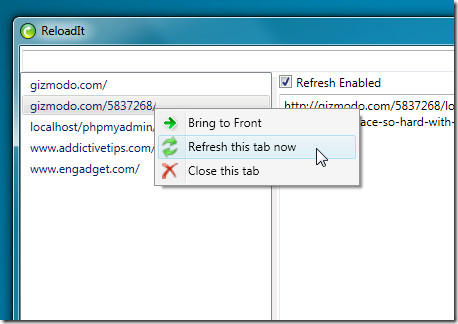 The only drawback we noticed with RelaodIt is that it doesn't support other widely used web browsers, such as, Google Chrome, Firefox, Opera, etc. For this reason, you need to set Internet Explorer as live preview browser in web application development IDEs to monitor the changes through it.  ReloadIt is an open source application that supports both Internet Explorer 8 and Internet Explorer 9.