How To Set Complicated Passwords And Remember Them: Ice Cream Password Manager
People do not always set the strongest passwords. They'll often use things like their birthday or the name of their pet in their login information. To make matters worse, people have a tendency to use the same password for multiple accounts. This happens because birthdays and pets are easy to remember. The same goes for recycling the same password for multiple accounts. In an attempt to get users to create better passwords, some companies like Apple force them to include special characters, numbers, and an uppercase letter in the password. Browsers offer to remember your password for you and all you have to do is set a good one. Another solution is to use a password vault. A password vault is an app that stores your logins. It allows you to set complicated passwords and remember them.
Lastpass is one of the more popular password managers in the market but it has struggled with keeping information safe. It has been hacked in the past and earlier this year, it even identified a major vulnerability that could be used by hackers. Naturally, you need to find something better to store your passwords. Ice Cream Password Manager is one app to consider. It runs as a stand alone desktop app, but also comes with a Chrome extension. There's even a Firefox add-on in the works. You can use either the app or the extension, or both.
Password Protected Vaults
The Ice Cream Password Manager lets you create password vaults. Each vault contains a different set of passwords and each vault has its own password. You have to unlock it to get to the information, logins, credit card numbers, health information, phone numbers, etc stored inside. You can create multiple vaults and keep login information for work separate.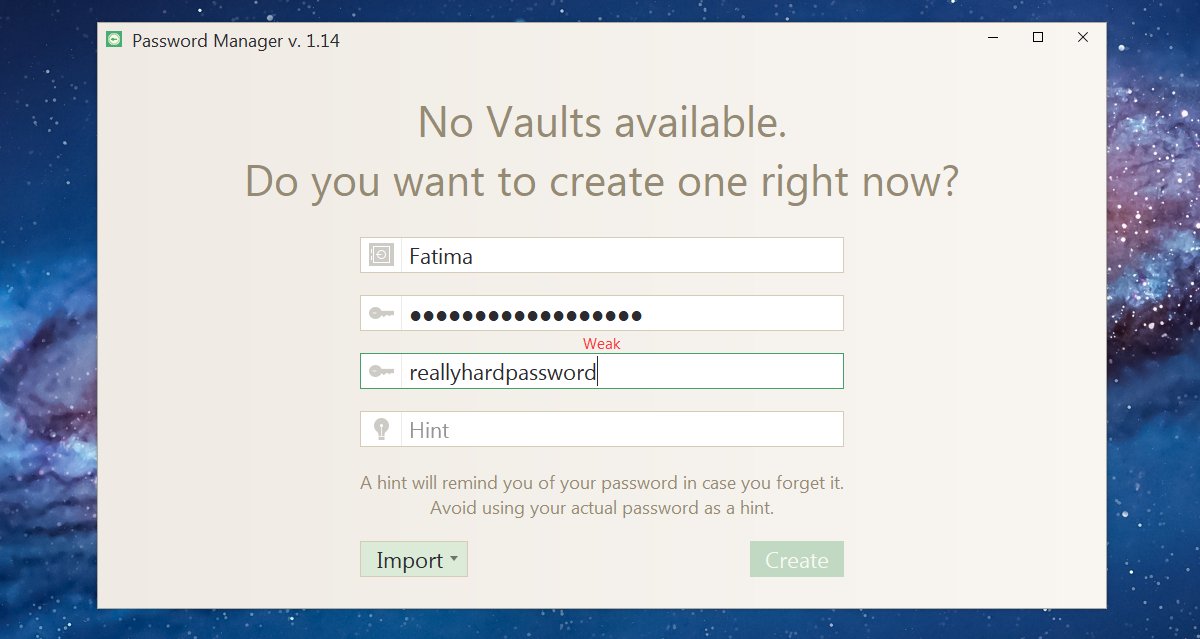 If you have a shared computer, multiple vaults can be used to separately store information for everyone that uses it. The vault locks itself automatically after a set period of time. If you walk away form your computer and forget to lock it, the vault and the information in it will still be safe.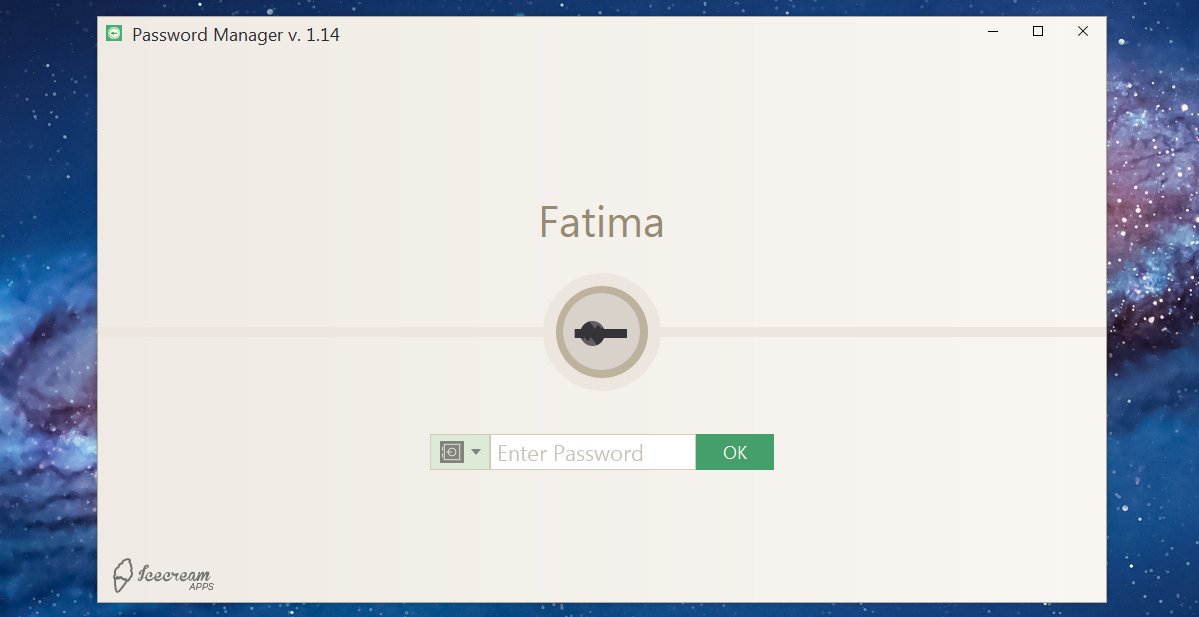 Storing Information
Ice Cream Password Manager lets you store more than just your login information and it's duly sorted by the type of information it is. You can mark information that you frequently use as a 'Favorite' but it is otherwise sorted into categories like Login, Credit cards, bank  accounts, identities, passports, etc.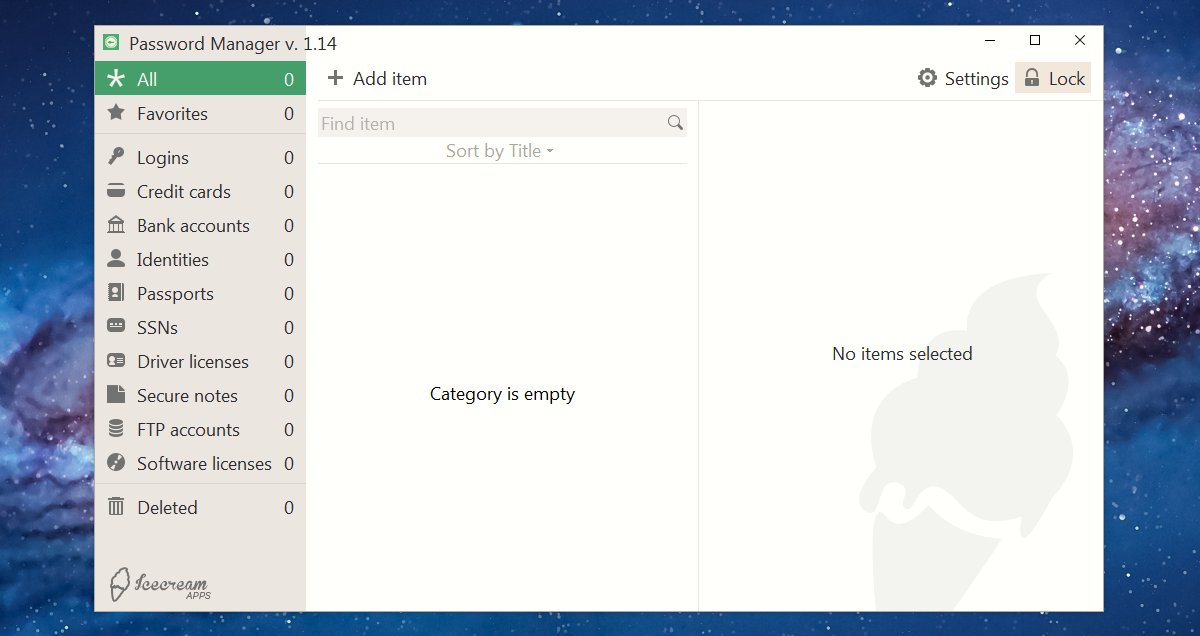 These categories don't just sort information. Each one has fields that make it easy to enter information. For example, the passport category has essential fields like issuing authority, the date it's been issued and when it will expire, your date of birth, etc.
Similarly, the Bank accounts category has fields for entering your bank's Swift code and your account's IBAN number. What this essentially ensures is that you enter all relevant information that's related to an entry. You might have to take the time out to fill it all in but once that's done, you're never going to have to search online or through physical papers to locate the information you need.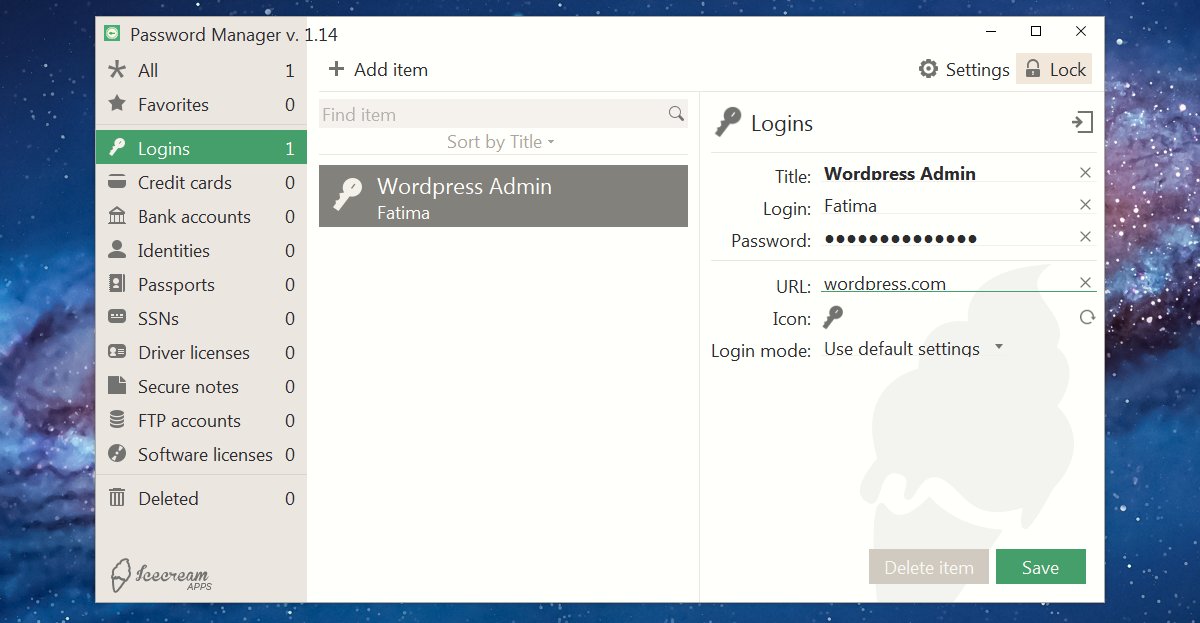 Desktop App And Chrome Extension
The desktop app and Chrome extension don't need one another to function but, if you have both of them installed your information is synced. The extension makes it easier for you to add login information. Every time you log in to a new domain, the extension offers to save it.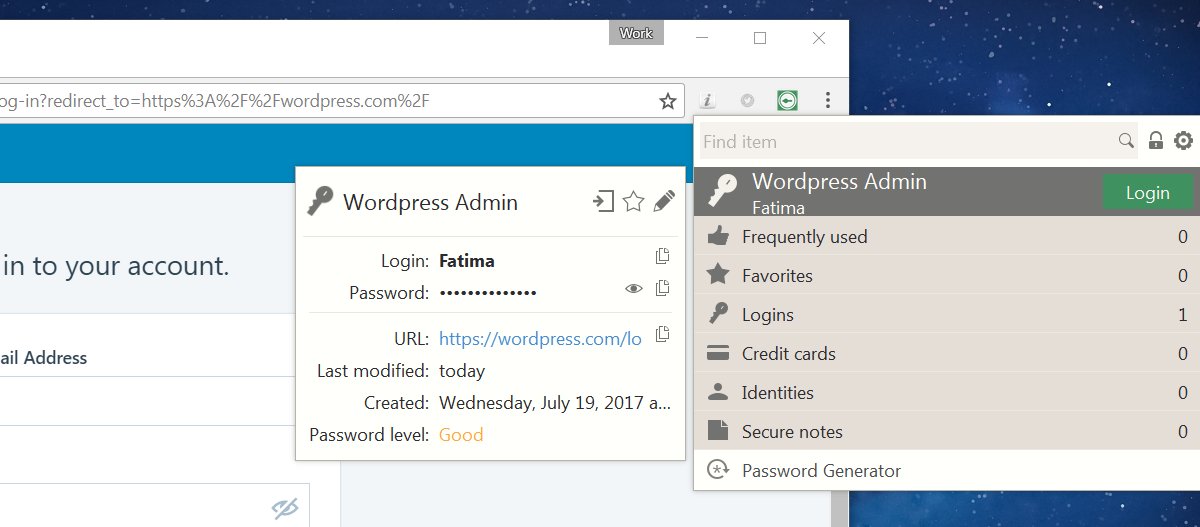 One advantage that comes with the Chrome extension is that it has a password generator. The password generator doesn't just give you a random password. You can specify the length and how many special characters you need in your password.

The Chrome extension syncs all the vaults you've created, password and all. Like the desktop app, the Chrome extension locks itself after a period of inactivity and you need to enter your vault password to access your information.
Backup
Ice Cream Password Manager lets you schedule regular backups. In fact, you can keep multiple, incremental copies of your data.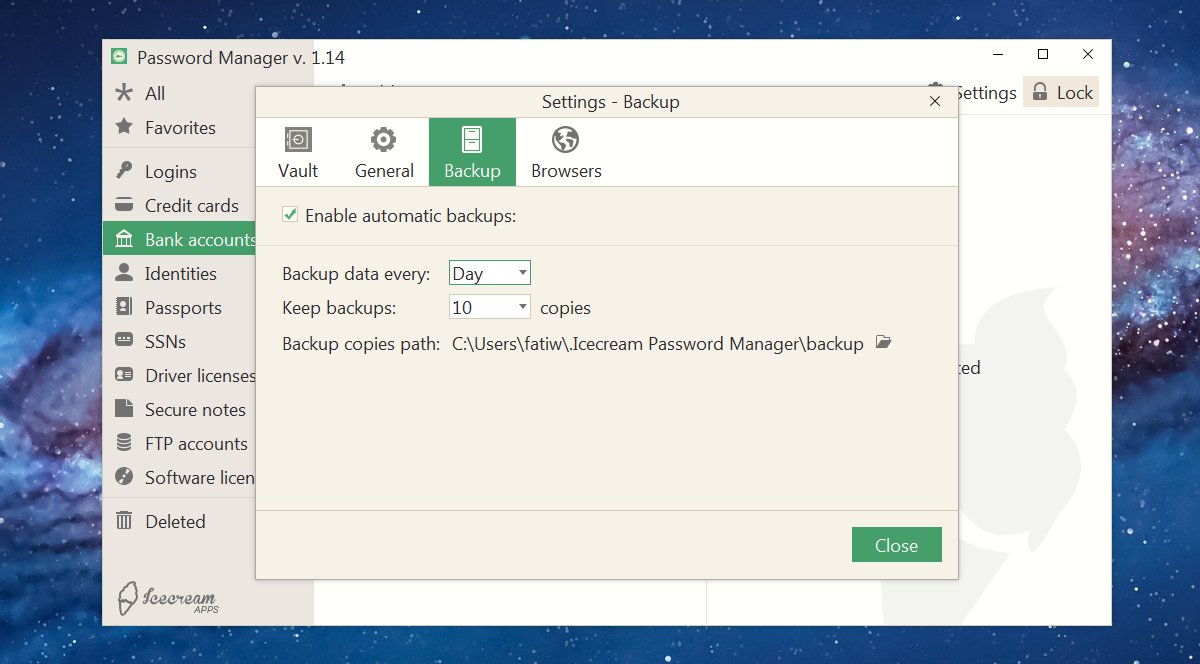 Additionally, you can sync your information with Dropbox.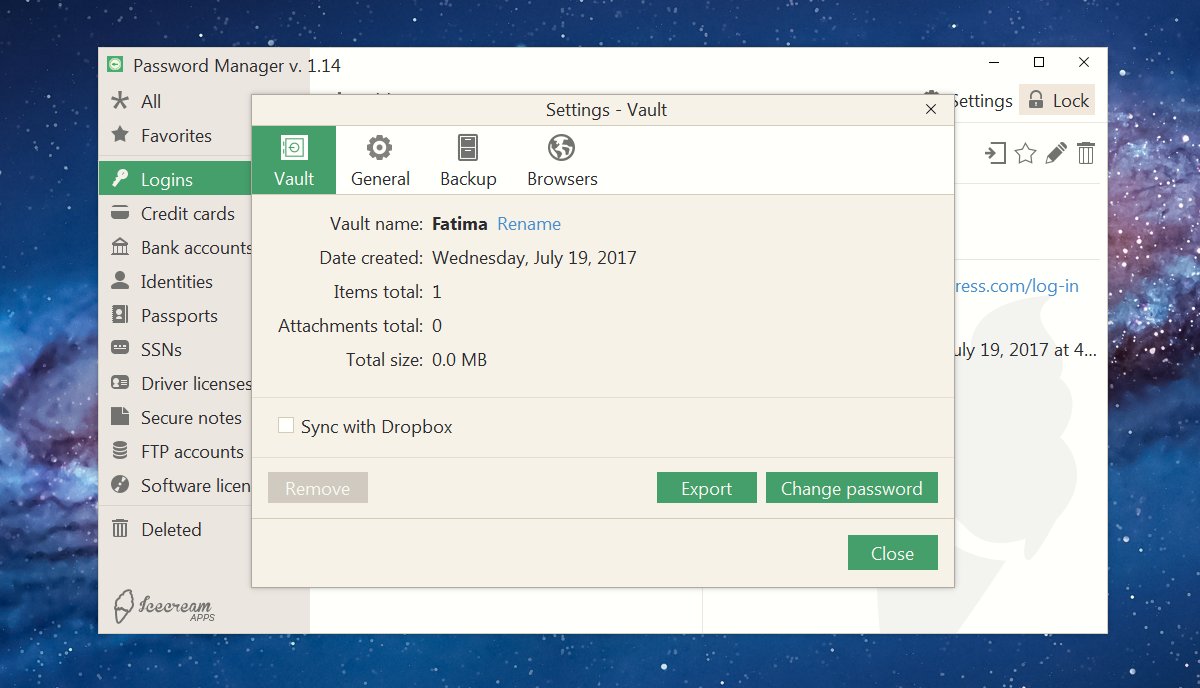 Security
We mentioned early on that the Ice Cream Password Manager automatically locks itself after a period of inactivity. The app lets you choose what that period of inactivity is. You can also set it to automatically clear the clipboard one minute after you've copied any information from your vault.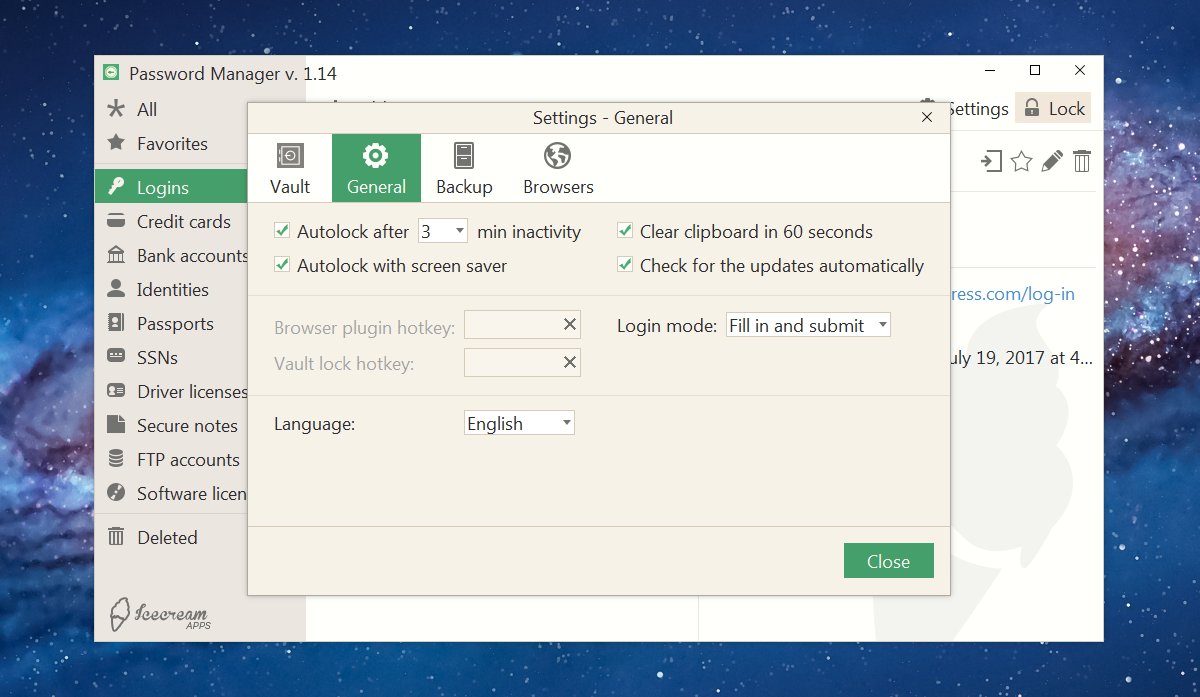 Shortcomings
Ice Cream Password Manager is an overall well developed app. It has one shortcoming; it doesn't lock down characters for known fields. For example, passport numbers are only 9 characters long. Similarly, IBAN codes are 14 characters long. In both these fields, you can enter as many characters as you like. This is problematic because you might accidentally repeat a character when entering your information and never know it happened until you try and use it.
Ice Cream Password Manager is pretty well made. It's stable and the information is quick to sync between desktop and browser. There's a Firefox add-on in the works so there isn't much left wanting. If you struggle with remembering your password, or your purposefully keep simple ones, give this app a try. It will help you set complicated passwords and remember them. It will also make sure you always have all your important information in digital form on your computer at all times.