Wake-On-Lan means to turn on any computer over the network by sending it a small command. Network Administrators usually use Wake-On-Lan tools to turn on computers over the network before accessing/repairing them. Jimmy's Magic Packet is a simple tool that allows network administrators to quickly wake up any computer via the MAC Address.
Mac Addresses are unique for every computer. Just enter the Mac Address of a computer and save it under any name. To turn it on, select the computer from the saved list and then click Wake Up. It's that simple. No complex settings and no long procedures are required.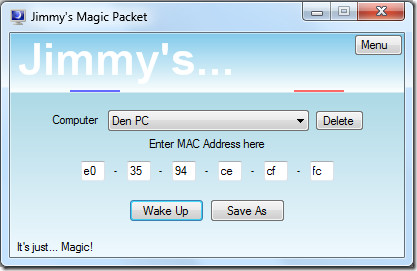 Obviously there are many other interesting Wake-On-Lan tools out there, Jimmy's Magic Packet is yet another free tool for network administrators. If you are looking for an alternative, there is no harm in trying new tools.
It is targeted towards small businesses and works on Windows XP, Windows Vista, Windows Server 2003/2008, and Windows 7. Enjoy!