Remove Files And Folders Permanently With Free File Wiper
File shredding utilities are used to eliminate the chances of recovering data from storage mediums in order to ensure data confidentiality. Since many data recovery software are capable of recovering data by applying both track-wise and sector-wise recovery methods, you must use a powerful file shredding utility to delete classified information from your system. Free File Wiper is a tiny yet staunch file shredder which supports 4 file erasing algorithms to permanently remove files and folders. Just like previously featured Freeraser, which uses different file destruction methods, it features an on-screen trash can. When you want to delete files / folders permanently, drag them over to trash can and it will start shredding them right away. The provided shredding techniques are based on different numbers of deletion passes, which includes, Quick erase – 1 pass, Normal erase – 2 passes, Secure erase – 3 passes, Maniacal erase  – 7 passes.
Once downloaded, run the executable file. It will sit in system tray. The on-screen trashcan appears over system notification area. Before shredding files and folders, right-click its system tray icon and select the shredding technique, i.e., number of passes to perform deletion process.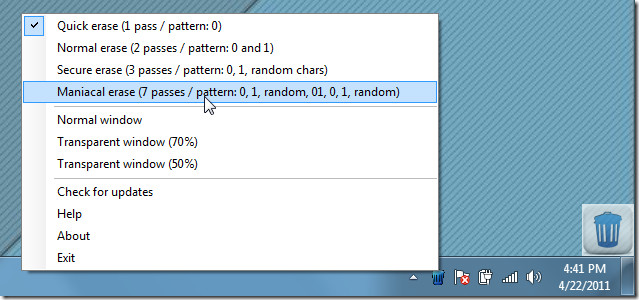 Now just drag the files and folders which you wish to permanently delete over its trashcan to begin shredding process.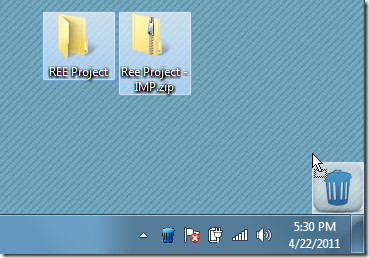 It works on Windows XP, Windows Vista, and Windows 7.