Remove Music Tag Discrepancies And Correct Tag Info With taghycardia
Tagging huge music collection is arguably a tedious task to perform, which is the reason why many music enthusiasts rely on efficient music tagging utilities to quickly tag all the music tracks scattered at different locations. A music tagging tool which requires minimum user interaction is the most viable option to quickly tag the music files, one such tool is taghycardia. It looks for missing meta tag info and meta tag related discrepancies in your music collection and replace them with correct tags by fetching info from various online resources. The application, unlike many other tools, needs only music archive folder path to check all the music tracks for incorrect ID3 V1 and V2 tag information.
On finding invalid tags, it informs user about the discrepancy, so they can be replaced with valid tag information. According to the developer, it was written for porting music collection from your hard drive to portable media players, as they only show meta tag info rather than original music file name.
After launching the app, specify your music collection folder by clicking browse button present over main window. Once path is defined, click Go to start finding music files having no tags or tag discrepancies. The process is totally distraction free until it finds an invalid tag. It prompts you to automatically normalize tags within the music directory. However, you can select No to manually correct the tag information later.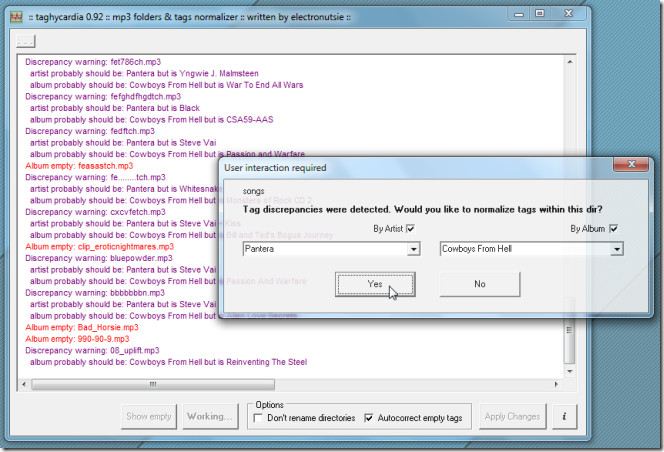 After it is done with finding all the invalid tags, click Apply Changes to normalize all the tracks for which you've selected Yes to normalize them. This will start writing new tag information to all the selected music files and remove discrepancies by adding same tag information (artist/album name, etc) across all the files it found during scanning.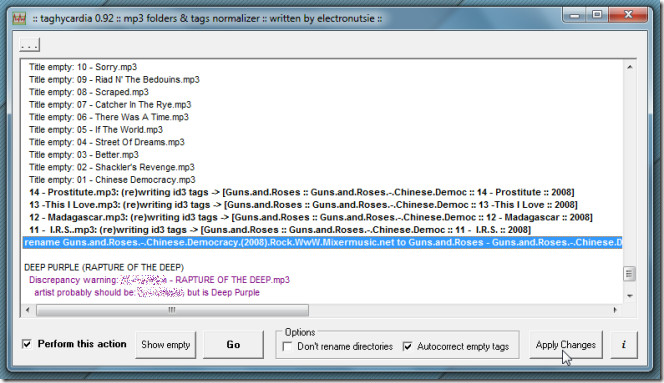 taghycardia is surely not the first tool to correct music tag information, but one novel feature of removing tag discrepancies greatly complements other provided features and makes it one must have app for music buffs. It works on Windows XP, Windows Vista, and Windows 7.