Remove Recent Items From Windows Vista Start Menu
There is a big reason why you should disable (remove) Recent Items from Windows Vista Start Menu; if you are on a shared computer, your privacy can be breached easily, anyone can check what you have been up to. There are other reasons, such as, Windows MRU list that stores small temp files to retain the last/recently accessed items. When one chooses to remove Recent Items, it cleans those small temp files as well, but unlike Windows XP where temp files and shortcuts to recently accessed items are saved in a single location, Windows Vista saves the recently used documents and items in the User Profile folders, allowing Windows to read the user-specific MRU list to display the search suggestions as well as recently used items from Recent folder (accessible from the Start Menu). Cleaning MRU lists from Windows registry and system temp files removes the recently accessed items for all user accounts, including Administrator, Standard User and Guest accounts. However, if you just want to remove recently accessed items from your account's MRU list, you can easily do so from Taskbar Properties sheet.
You may know that Windows Start Menu contains a Recent Items list, which reads recently accessed items from User Profile folder namely Recent. You can manually remove recently used items from C:\Users\<user account folder>\Recent. It's worth mentioning here that it doesn't remove recent items from other user accounts.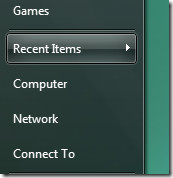 As stated earlier, you can easily turn this feature off from the Taskbar Properties. Removing Recent Items is a piece of cake. In order to prevent Windows from saving shortcuts to recently used items, right-click taskbar, and select Properties.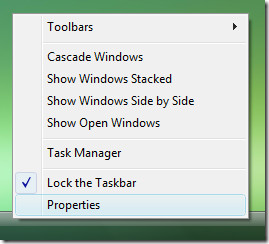 Now head over to Start Menu tab, and from the Privacy section, uncheck the "Store and display a list of recently opened files" checkbox.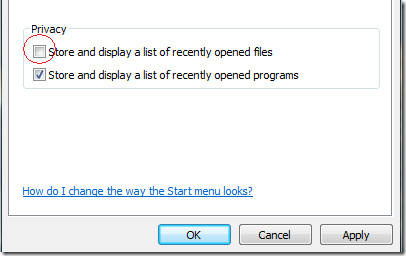 Now you will see that the Recent Items in Start Menu has vanished.