Rename Files In Bulk With File Renamer
File Renamer is an application that lets you rename files and folders. It offers an extensive range of options to choose from, allowing you to rename files or folders in just about every imaginable way.
The application comes with a detailed list of options. It also lets you rename multiple files simultaneously. From the main interface, you can select the file or folder that you want to rename. To add new file/folder, you can drag and drop it directly into the blank window. From the options, you can add or remove characters from the selected file/folder. You can also change file date or add date in the beginning or end of the file name. Also, it lets you numerate files, i.e. file name will bear a number followed by name of the file.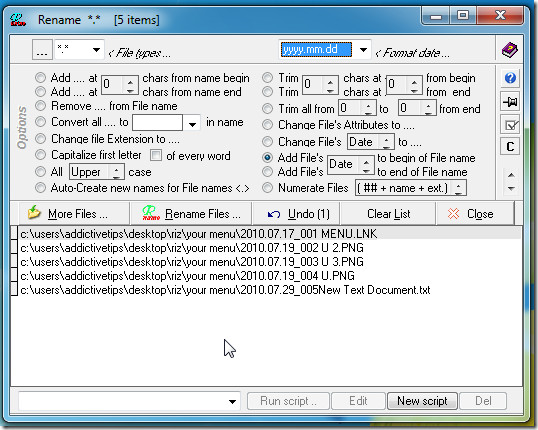 Press the Undo button to undo any changes made to the files. The program allows unlimited undos, which means any changes made in a particular session are undone. You can also add the application to the right-click context menu. This option can be selected from question mark icon in the right sidebar.
It supports Windows XP, Windows Vista and Windows 7 , testing was carried out on Windows 7 x86 system.