Renames Files Using Any Pattern With Drag & Drop Renamer
DnD Renamer enables user to rename files in bulk using a specified pattern. It offers a list of parameters which can be applied to rename or to perform other batch operations via simple drag & drop. The application can be used for replacing a file with the original file name, replacing file(s) with the auto-generated serial number, by a user-defined filter and according to day, month, year, hour, minutes, seconds respectively.
To rename file(s), create a copy or perform an action by a specified order, it require users to add a parameter as per their liking . Supported parameters are as follows:
%n – Replaces the selected file(s) with the original file name.
%d – Replaces the file(s) with the serial number if more then one file is dropped.
[dd] – [mm], [yyyy], [hh], [ii], [ss] allows sorting files in the date month, year, hours minutes and seconds format.
filter: – This action applies filters on the file name and is case sensitive.
You can for instance rename files by removing  pre or post fixes. The screenshot below is exhibiting removal of postfix _2 from selected files. Once the filter is entered, just drag the files over the defined area to begin batch renaming.

The Actions By Extensions option can also be enabled to perform renaming tasks by specified extensions. The default action is override by the extensions table when the option is enabled. To rollback to previous file names go to the Log & Rollback tab and click on the Rollback button. Logs can also be viewed for batch operations from this tab.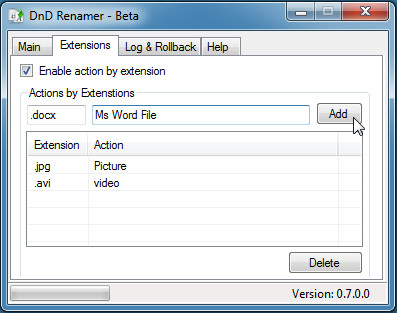 On the product page, you will find filters and parameters examples which demonstrates all possible types of usages. It was tested on Windows 7-64 bit OS and works with Windows XP, Windows Vista and Windows 7.