Replace System Files With Windows File Replacer
Advanced users have to face some difficulties while testing a software which requires system files to be modified. Most users rename the older system files and add ".old" at the end of the original name so that they can be later be easily identified and restored.
This is a lengthy process and can cost time. Windows Se7en File Replacer can replace and restore the system files in just two clicks. All you need to do is to select the system file that needs repair and drag & drop the new system files. After you are done with the testing, hit Restore to restore the old system files back.
Note: This is intended to be used by advanced users only. Do NOT try this software to replace system files that you do not know about. It can render your windows corrupt.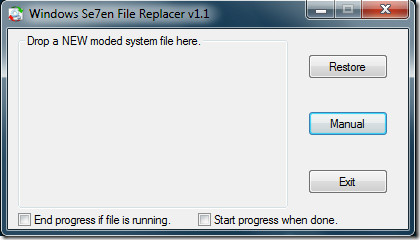 It is a portable tool and has been developed for Windows 7. You can however use it on Windows Vista as well.
Download Windows Se7en File Replacer