Replicate And Backup Important Folders With Windows File Replicator
In the event of a hard disk crash, the data stored in the hard disk has more value than the price of the hard disk. In such cases, backups of your data act as a life saver. Mostly, it's the value of the data stored in a hard drive that motivates us to create backups. Since the data in your hard disk keeps changing, and new data is added, or old data is deleted from the collection each day, regularly updating the backups in accordance with the data is a lot of hassle. Windows File Replicator is a simple backup tool that replicates changes made in your source folder to your destination folder in real time. It is capable of monitoring multiple source folders for changes, and automatically makes those changes to your multiple backup locations. You can set the application to replicate data when it is renamed, created, changed or deleted in source folders. Windows File Replicator monitors all the errors, warnings and messages, and allows you to export list of alerts in an excel file.
The interface of Windows File Replicator has three tabs; File Replication Tasks (to start and edit replication settings), File Replication Alerts (to view errors, warnings and messages) and File Replication Log File (to view exceptions). To start, right-click File Replication Tasks and choose New File Replication Task in the left pane to enable the File Replication Task Editor. Now, choose a task name, check the operations that you want replicated in your backup folder, select a source folder and a destination (backup) folder, check Task is Enabled, and click Update. You can include sub-folders for backups by selecting Include Sub Folders, and can add multiple tasks in the same way to backup more folders. Finally, start, pause or delete a task at any time by right-clicking the task name in the left pane.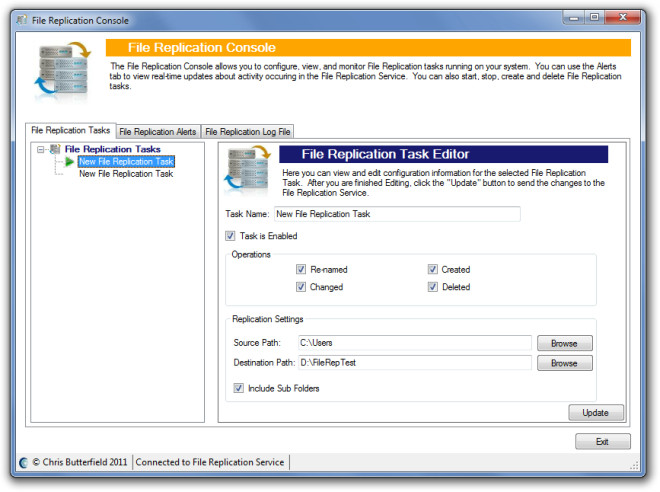 Open the File Replication Alerts tab if you want to view the Errors, Warnings and Messages that appear while replicating files. You can save the list in an XMLX format for future use.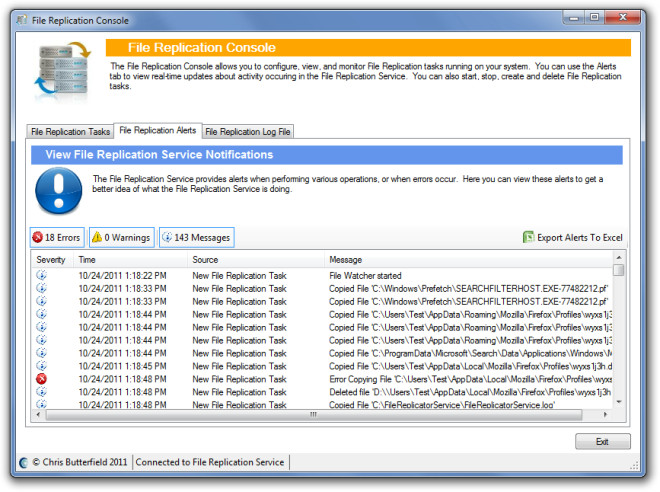 The File Replication Service can be accessed from the File Replication Log File tab. It keeps track of exceptions occurring in the replication process, and maintains a log file that can be used to diagnose any problems with the service.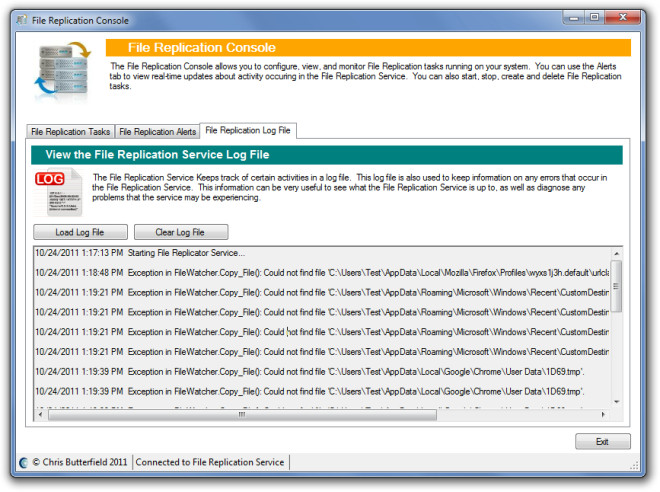 Windows File Replicator is an open source application, and works on Windows XP, Windows Vista and Windows 7.
Download Windows File Replicator