Reset Forgotten Password For Windows 10 Local/Microsoft Account
You can password protect your Windows user account. A password lets you keep your data safe and it's an essential feature on just about any and all devices. It's great up until you forget your password. That's when things go south. While it's important for Windows to have a password feature, it's also important for that password to be uncrackable. That's great if you have someone trying to break into your system. It's bad if you've forgotten your own password and the only hint you've given yourself is 'cheese'. If you used a Microsoft account then you can probably go online and reset it but in all other cases, it's not easy to reset a forgotten password for Windows 10 Local accounts.
To reset a forgotten password for Windows 10 local/Microsoft account, you could do it with PCUnlocker. The app downloads as a zipped file and inside is an ISO that you need to burn to a CD or DVD.
Editor's Note: This is not a free app — a standard license costs $20, while a business license costs $30 — but it's also not a steep price to pay to get back into your system.
Create Bootable PCUnlocker USB
Download PCUnlocker. Use your preferred tool to create a bootable USB. We recommend using Etcher but the makers of PCUnlocker recommend their own product called ISO2Disc.
Download the app and install it. Extract the PCUnlocker zip file. In ISO2Disc, select the ISO image and burn it to a CD/DVD or a USB flash, whatever you have on hand.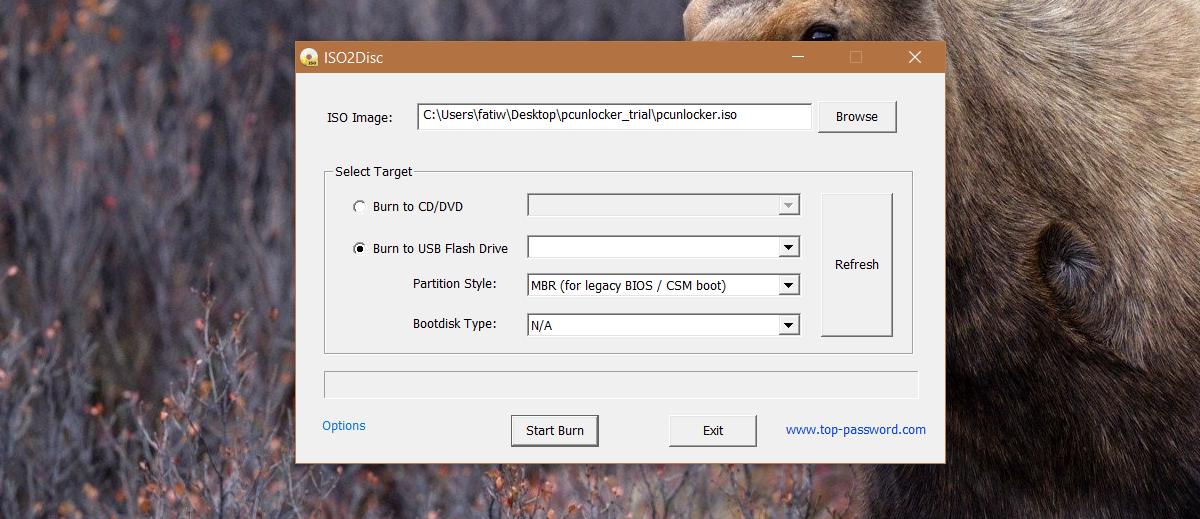 Prepare System
In order to reset a forgotten password for Windows 10, your system needs to boot into the USB drive you just created. It needs to do so without booting into Windows. The USB you just created is a bootable USB. It can run the PCUnlocker app on your computer without needing to boot into Windows 10.
Boot Order
To boot from the USB, you need to make sure USB drives are set as your first boot device. Computers can boot from a myriad of devices; the hard disk, the CD/DVD drive, or a USB drive. If you're using a CD/DVD, your first boot device should be the CD/DVD drive. Likewise, if you're booting from a USB, your first boot device should be a USB drive. You can set boot device order in your system's BIOS.
Turn on your computer and tap the Escape key or the F2 key to boot into your BIOS. Locate the boot options and change the boot order  so that your preferred device has preference over all other devices.
Disable UEFI Mode
Your BIOS will have a setting for disabling UEFI Mode. Not all systems will have this and we can't point you where to look. It's easy to disable. The real challenge is to find where it is. Search for where the mode is for your particular system. Boot into BIOS, and disable it.
Please note. If your computer can boot in UEFI mode only, then you need to get a copy of PCUnlocker Enterprise which supports UEFI secure boot.
Reset A Forgotten Windows 10 Local/Microsoft Password
Plug in the bootable USB and turn on your system. You will see the following screen when the PCUnlocker program loads from the USB.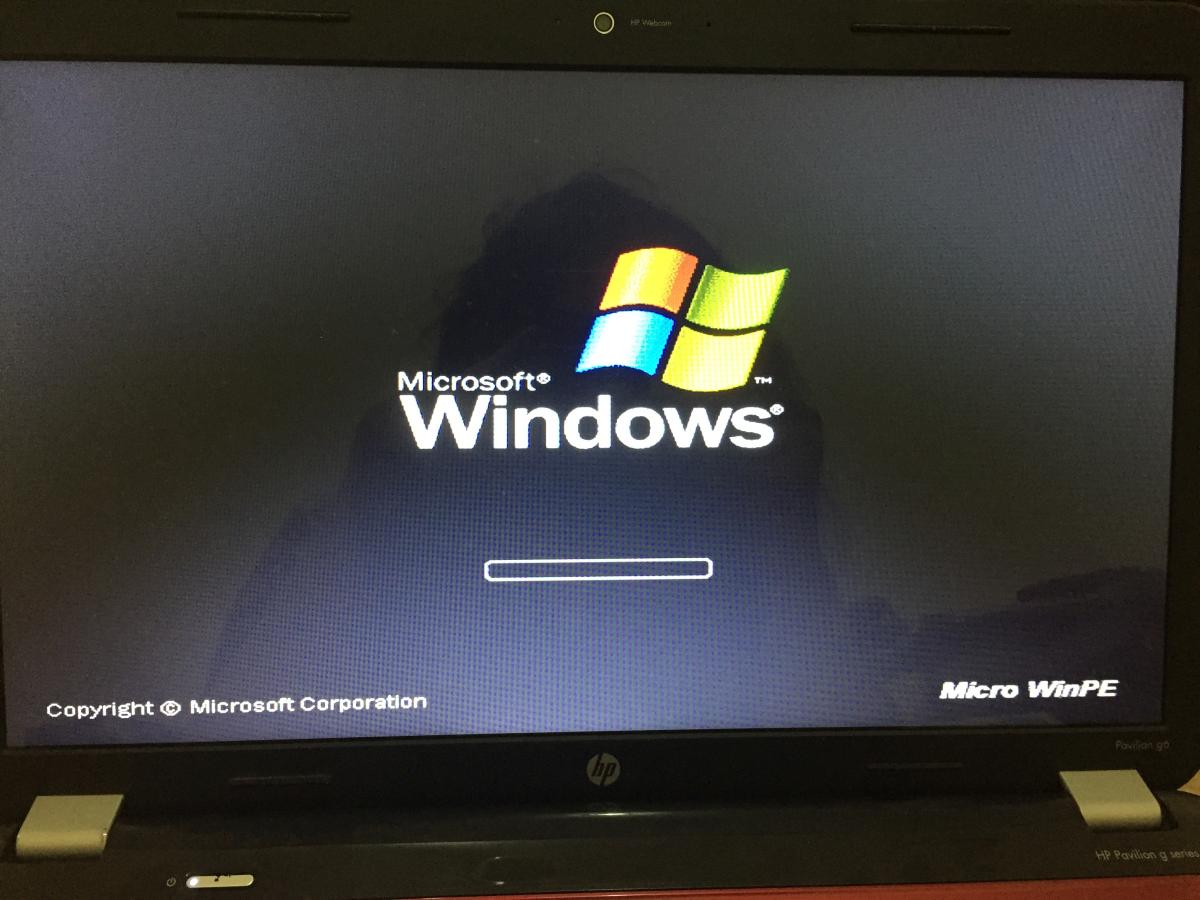 Allow the program to load and you will see a list of the account configured on the system. At this point, you need to decide if you want to reset the password for a local account or for a Microsoft account. If an email address appears in the Description column, then the account in question is a Microsoft account. In order to reset the password, you will convert it to a local account. It's pretty easy.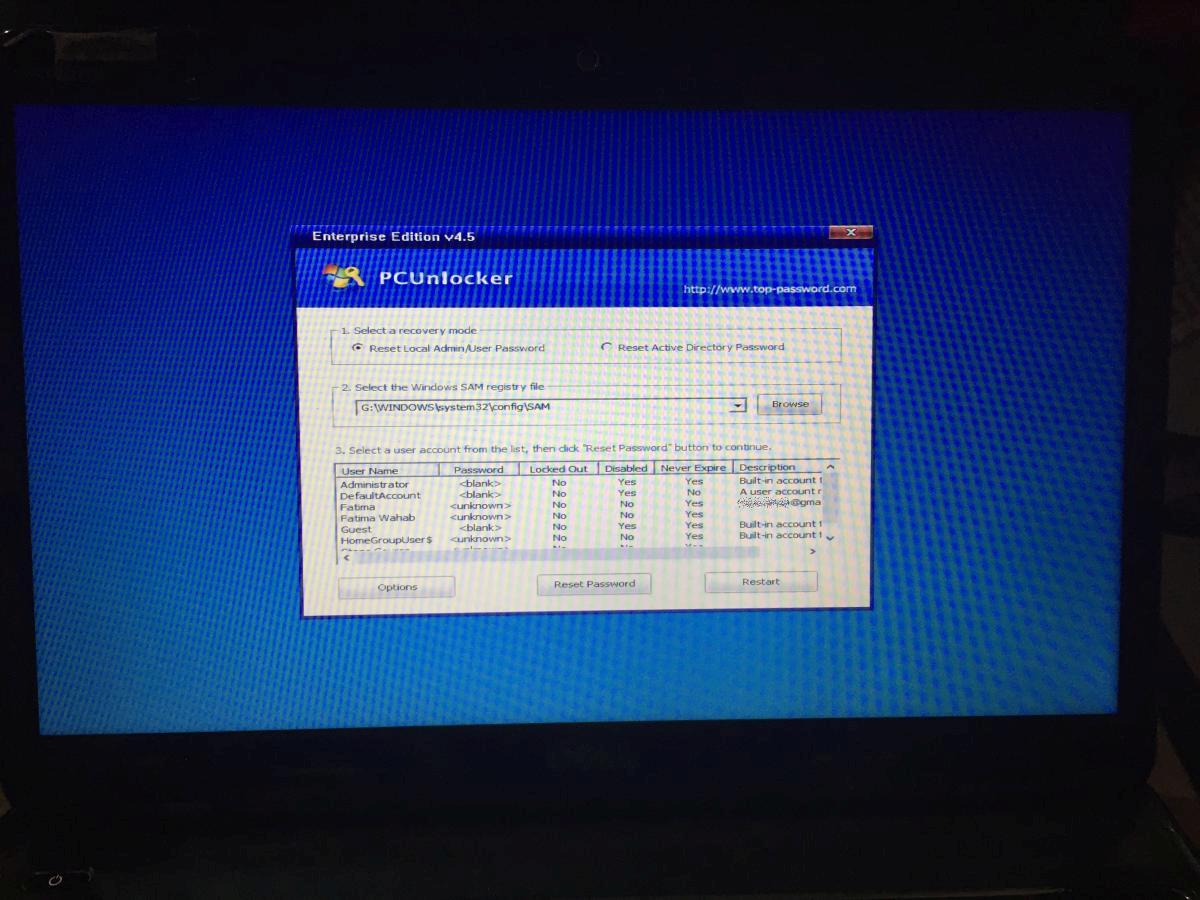 Select the account, and click 'Reset Password'. You will be prompted to enter a new password and then PCUnlocker will reset it to the one you've just said. Your Microsoft account will be removed.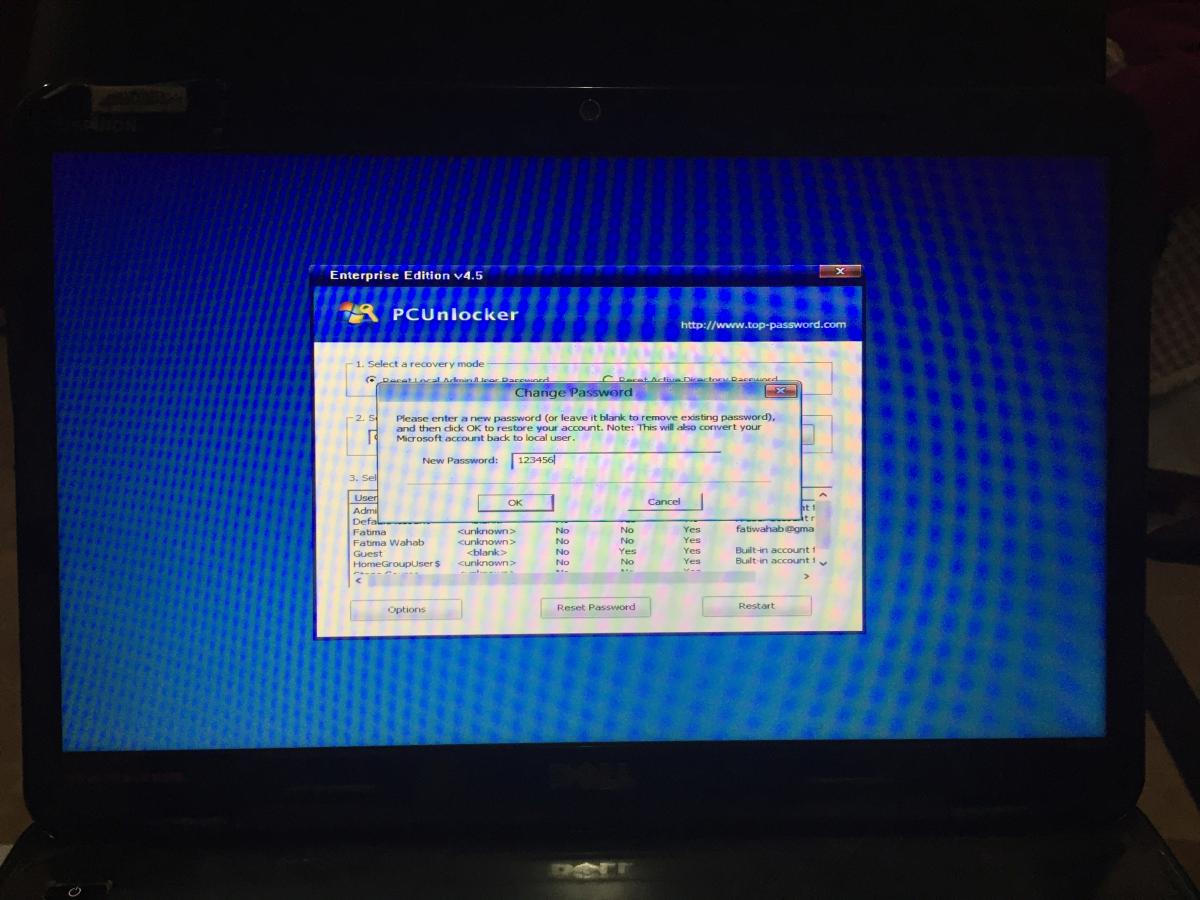 The trial version will not reset the password. It will tell you if it's possible to reset it but you will have to buy a license to actually reset it. Once the password has been reset and Windows boots again, it will need to repair itself. You will see the following screen. Allow it to repair itself and use your new password to get into Windows 10.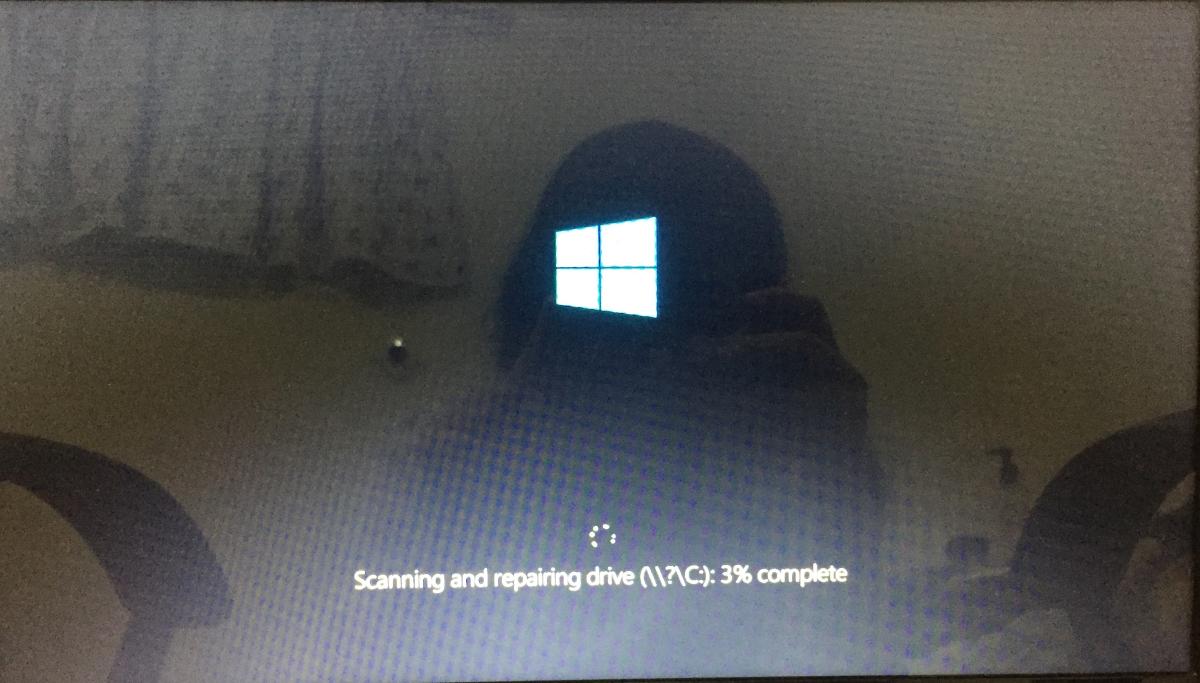 PCUnlocker can reset a forgotten password for Windows 10 local/Microsoft accounts, and for AD accounts.